NeNe Leakes took aim at "Real Housewives of Atlanta" co-star, Kim Zolciak-Biermann's daughter, Brielle Biermann, over claims of "prejudice."
On Thursday, Leakes, 49, shared her thoughts about an old video that showed the 20-year-old in Leakes' bathroom with what appeared to be large black bugs. "On the way back to the A, I fell asleep thinking about how imma live in my ROACH infested brand new home," Leakes captioned a selfie during a flight back from a trip to Barcelona, Spain, with the cryptic hashtag #pottymouthtrashychildren and #jealousprejudiceb—h as well as #blackpeopleneedtostopsupportingtheprejudice.
In true Leakes' fashion, she didn't stop there. Leakes also posted a recent video clip of Brielle on her own Instagram account, this time bringing up Kylie Jenner's name.
https://www.instagram.com/p/BZ4gJ7ynD20/
Also on Thursday, Brielle clapped back at a follower, who accused the "Don't Be Tardy" star of calling Leakes a "black roach."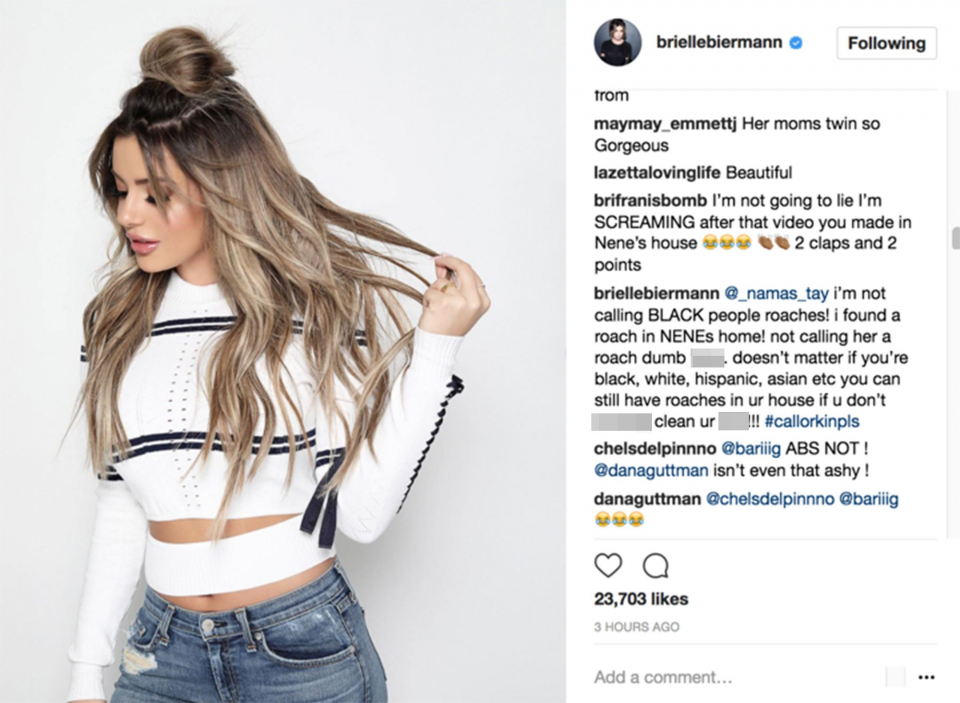 Later on, Leakes commented on yet another post, where she called the mother-daughter duo "racist."
"Kim & her daughter oops whole family are racists! What her daughter did at my home, (which she nor kim were invited to so be clear abt that as well) was pure disgusting, racist, learned behavior etc," Leakes wrote, adding, "children are NOT off limits when you allow your child to talk to adults any kind of way, post disrespectful things on social media and so on. Kim is a calculating bio polar racist with a horrible mouth, who uses black folks for her come up."
https://www.instagram.com/p/BZ4mESgBmGO/
According to Zolciak-Biermann everyone was making a mountain out of a molehill. "First off that video is a combination of 2 videos! I COMBINED THEM!" the mother of six wrote via Instagram.
Continued Zolciak-Biermann in yet another a lengthy statement: "It's so sad and offensive that someone can stoop so low as to call someone a racist just because they are mad. Everyone in my life knows that I am far from racist and unfortunately NeNe Leaks [sic] has tried for the last 10 years to paint that picture because that's her last resort. (It's convenient that I'm not racist when we are getting along)," she wrote.
"In a day and age where racism is very much alive and people are actually dying because of real racists, it's heartbreaking that NeNe would cry wolf like this only because she's upset. I think everyone including Nene needs to spend some time uplifting people insted [sic] of tearing them down. Nene should be embracing love instead of making up lies. There is absolutely no credibility to anything that she has said. I will NOT stand for these slanderous comments!"
At the end of the day, Leakes simply isn't feeling Zolciak-Biermann's "pitty post," dubbing it "#trash."
What are your thoughts on the former besties recent feud? Sound off in the comment section below.