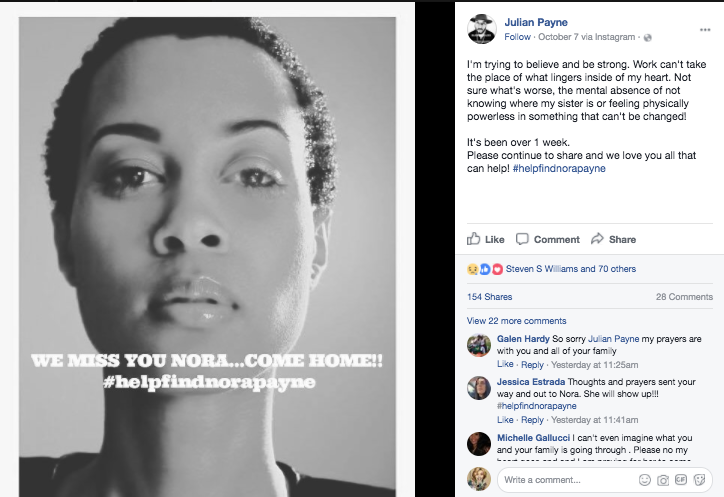 "Ok everyone tag @abc7chicago to draw attention to my missing sister NORA PAYNE!! REPOST AND SHARE!! WE WILL LOCATE HER THIS WEEK! 
#
helpfindnorapayne
#
missingperson
#

chicagoohare

," writes Julian Payne, the distraught and concerned brother of songwriter Norah Payne on his Facebook account. Norah was on her way to see Julian, who is the president of The Original Mobile Barbershop Co., when she disappeared. The post appeared on his Instagram account today. 
Norah Payne co-wrote Michael Jackson's "You Rock My World" alongside Jackson himself, Rodney Jerkins, Fred Jerkins III and LaShawn Daniels. The lead single on his 10th album, Invincible (2001), "You Rock My World" was commercially successful worldwide and peaked at number 10 on the Billboard Hot 100, becoming Jackson's first top ten song in the United States in over six years.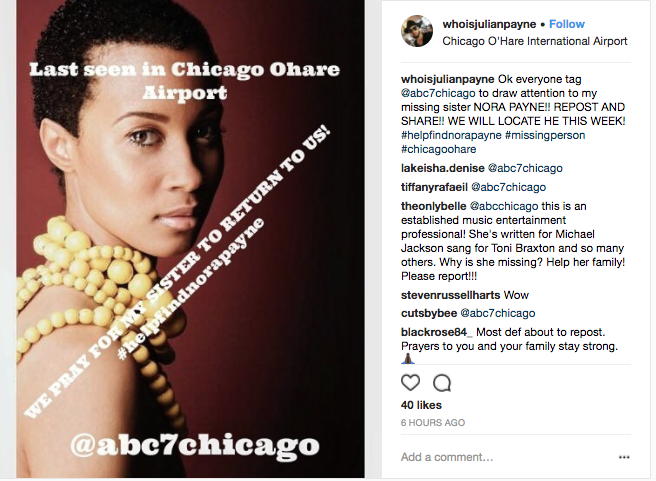 She was last seen at Chicago O'Hare International Airport.
On Saturday, October 7, Julian's plea was a tearjerker,
"I'm trying to believe and be strong. Work can't take the place of what lingers inside of my heart. Not sure what's worse, the mental absence of not knowing where my sister is or feeling physically powerless in something that can't be changed!
"It's been over 1 week.
"Please continue to share and we love you all that can help!#helpfindnorapayne"