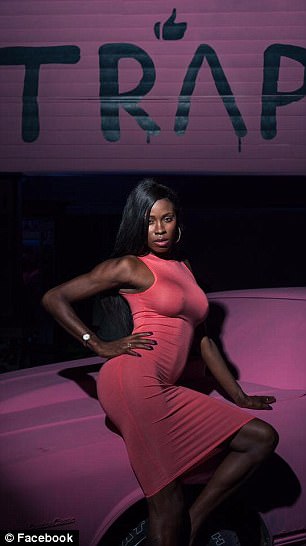 The biggest story to emerge during a wild weekend of football drama had nothing to do with the actual gridiron.
As rolling out reported, an explosive video was released online that exposed former Miami Dolphins assistant coach Chris Foerster as an out-of-control coke user. The damning footage showed the widely respected coach, who was coveted throughout the sport for his expertise, videotaping himself snorting a white powdery substance through a rolled up $20 bill — just before he enters his coaches meeting. And the married man with three kids bragged about it to his Vegas mistress, to boot. The video was so inflammatory that Foerster was forced to resign the very next day.
Now the question is this: How did the did the video find its way onto the Internet and, more importantly, why?
The mystery woman, who we now know as Kijuana Nige, put the video on Facebook but initially failed to provide a rationale as to why she did it.
"I really don't do this often but … since it's NFL Sunday let's talk about these coaches folks. Introducing Christopher Foerster Miami Dolphin [sic] offensive line coach. Hey, honey are you still high," Nige wrote.
Finally, on Monday, Nige revealed why she posted the video that essentially destroyed the career of a celebrated, multimillionaire coach. She conveyed on Facebook that she was incensed about how the protesting NFL players were being viewed and treated this past week.
"The white people mad at me like I forced blow down this mans [sic] nose and like I recorded it on tha low. No those are his habits and he recorded himself and sent it to me professing his love," Nige wrote. "So quick to make excuses for him but will roast a minority player over an anthem, dog fights, weed, domestic issues etc. But y'all keep saying ALL LIVES MATTER STFU."
Nige went on to say that she wants to see everyone held accountable for their actions and that she found it distasteful that players get "roasted" for kneeling during the national anthem in the name of racial justice.
"I have plenty of white friends so I'm not making this a race issue," Nige wrote. "People are missing the point. My point is everyone has to be held accountable for their decisions they roast players over anthems while the coaches be high as s— and probably can't even sing along."
Nige also argues that if the video had featured a black coach, he would have been crucified on top of being fired.
"If his a– was black they would be dragging him thru the [mud] face first," Nige wrote.
This whole scandal may have been ignited after Nige became irate over Vice President Mike Pence's blatantly staged appearance-and-exit from the 49ers-Colts NFL game on Sunday. As the cameras rolled, Pence sanctimoniously and conspicuously left the stadium just as members of the San Francisco 49ers knelt during the playing of "The Star-Spangled Banner."  
"I will not dignify any event that disrespects our soldiers, our Flag, or our National Anthem," Pence tweeted with a sense of self-importance after leaving the game. Pence's brief appearance at the game, by the way, cost taxpayers approximately a quarter of a million dollars in security and logistics.
The Dolphins were completely shell-shocked and were left to clean up the rubble following the snorting scandal. During the press conference in the aftermath of Foerster's ouster, head coach Adam Gase had the look of a man who'd just returned from war.
"It's not a good situation," Gase said, according to the Miami Herald. "It wasn't something that you would expect. Things happen sometimes that you don't anticipate and you have to deal with it. It's not fun, especially when you're close with somebody. You've got to take the next step and move on. We're going to play on Sunday."