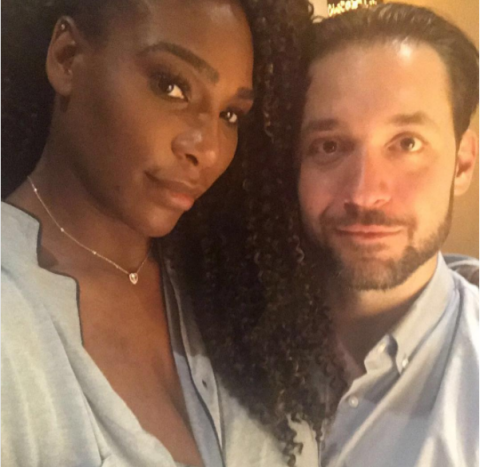 Mom life looks good on Serena Williams.
On Saturday, the tennis champ shared an adorable black-and-white selfie featuring herself and 5-week-old daughter Alexis Olympia cuddled up for the camera.
"Ladies is a 'push present' a thing?" Williams asked in the caption. "If so what did you get if anything? #conversationstarter."
According to Williams' timeline, it is, and fiancé and baby daddy Alexis Ohanian has some pretty impressive gifts to top. "I got a car," wrote one fan. "I received a beautiful necklace from my husband which had my daughter's name, his name, and a heart inscribed in it," said another. "It's a great sentiment which helps me remember my little trio family of love."
While hubby Ohanian will have his hands full selecting the perfect gift, Williams announced she's got a full plate of her own. On Tuesday, it was announced that she will make her competitive comeback next January to defend her title at the Australian Open. It's the same tournament she went head-to-head with sister Venus at during the final while pregnant.
"Serena will be back," tournament director Craig Tiley said, according to Sports Illustrated, noting that Williams "is planning" on competing in the Jan. 15-28 competition.
Days later, Williams confirmed reports during the TED 2017 Conference in Vancouver, telling Gayle King, "I definitely plan on coming back. I'm not done yet. If [Venus is] still playing, I know I can play. This is just a new part of my life. My baby's going to be in the stands and hopefully cheering for me."
In the meantime, Williams appears to be enjoying quality family time with baby Alexis Olympia and chronicling her growth for fans via social media.
As previously reported, Williams and Ohanian welcomed their baby girl on Sept. 1.
"We're leaving the hospital after six, seven days," the 36-year-old athlete told fans after Olympia's birth. "It's been a long time, but we had a lot of complications, but look who we got — we got a baby girl!"