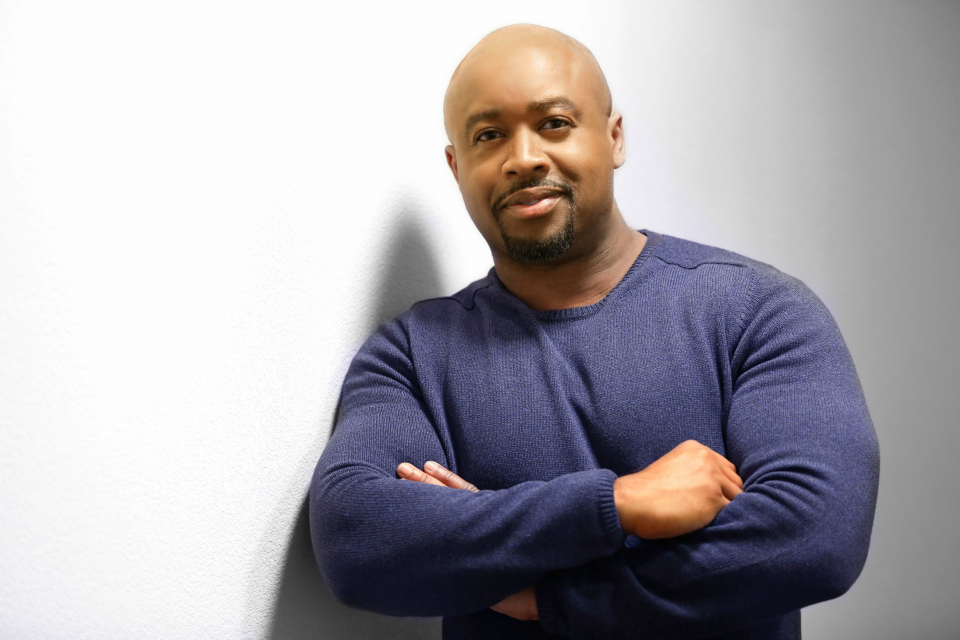 Cory George, a radio personality, empowerment coach and author penned SIT or STAND 2.0: Living Successfully Beyond Your Shadows, an insightful and thought-provoking literary contribution inspired by his trials and triumphs.
A native of Houston and Ville Platte, Louisiana, George resides in the metro Washington, D.C., area with his two sons. His appearances on media outlets such as Huffington Post Live, OWN Network's "Iyanla: Fix My Life" and local radio and television outlets affords George the platform to inspire conversation on topics that he feels deserve more attention. All of George's work can be traced back to at least one of his areas of personal advocacies: mental health and mental illness in the Black community and childhood victims of sexual assault.
Here, he shares his story.
What inspired you to become a writer?
Writing has been a hobby of mine since I was very young. Having a severe speech impediment at the time as well as dealing with other life trauma, writing became not only my voice when I chose not to speak but my escape from a world that I felt was painful and saddening.
What has been the overall response to your work as a writer?
Overall, the responses have been very positive and personal. The purpose of my writing is to not only paint an overwhelming picture of the subject matter but to also help place the reader in view of victory. Sharing my stories of abuse, abandonment, low self-esteem and the effects that they have had on my life are unfortunately very common and highly relatable. Pain, sadness, fear and guilt feels the same for all of us despite its source. I try to never write about a sensitive [or] tough subject without offering teachable moments that can help shape someone's negative reality into a positive one.
What empowers you to discuss being molested?
I made a promise to myself years ago that I would take the inverse of every painful situation and offer it to others in the form of power and purpose. In regard to being raped, as I tend to call it what it is, I know firsthand the crippling effects that such an incident can have upon the emotional development of young men regardless of one's sexuality. It pains me to see boys and men of any age continue to victimize themselves as a result of what was done to them. Emotional freedom is my end goal as I share my story, strategies of healing, and how to stay afloat emotionally.
How did being molested impact or influence your sexuality in being a gay man?
The major impact that my rape had upon my understanding of my sexuality is that I knew that I was attracted to men physically and emotionally but oftentimes could not trust because of what had happened. Years of reconciliation were required before I was able to separate what happened to me from every man I met.
What was your experience like being on Iyanla Vanzant's "Fix My Life" series discussing your truth?
My experience was very cathartic in that I had a rare opportunity to listen and feel the stories of other victims and realize that we were five male adults at different levels of healing and that it was okay. It was okay for Black men to be completely vulnerable, scared, confused, toxic, and yet still be strong enough to share their truth. Iyanla, both on and off camera, was genuinely concerned about our peace of mind and I understood that. I hadn't shared my story from a victim's point of view in years so it was an eye opener for myself to understand that a "healing tune-up" is sometimes in order.
What advice do you have for anyone else who were molested and trying to process/heal?
I'd say specifically for men that it is absolutely necessary to find a safe space to speak about the truth. More specifically for Black men I want them to give themselves permission to seek help. If you feel that your family, friends, or inner circle cannot offer you the support you feel that you need then call the National Sexual Assault Hotline at 1-800-656-4673 to be connected with a trained staff member who can guide you to resource(s) in your local area.
Tell us about your education.
I hold a Bachelor of Science and Master of Management from Colorado Technical University. I am also a Certified Coach Practitioner, Certified Anger Management Specialist and Certified Domestic Violence Specialist
Where do you see your career in the next five years?
I see my career expanding into more multimedia projects including television, perhaps at least two more books, more speaking engagements and seminars, and being open to all opportunities that will allow my gift and purpose to manifest into positive reinforcement for those who question their strength and purpose in this world.