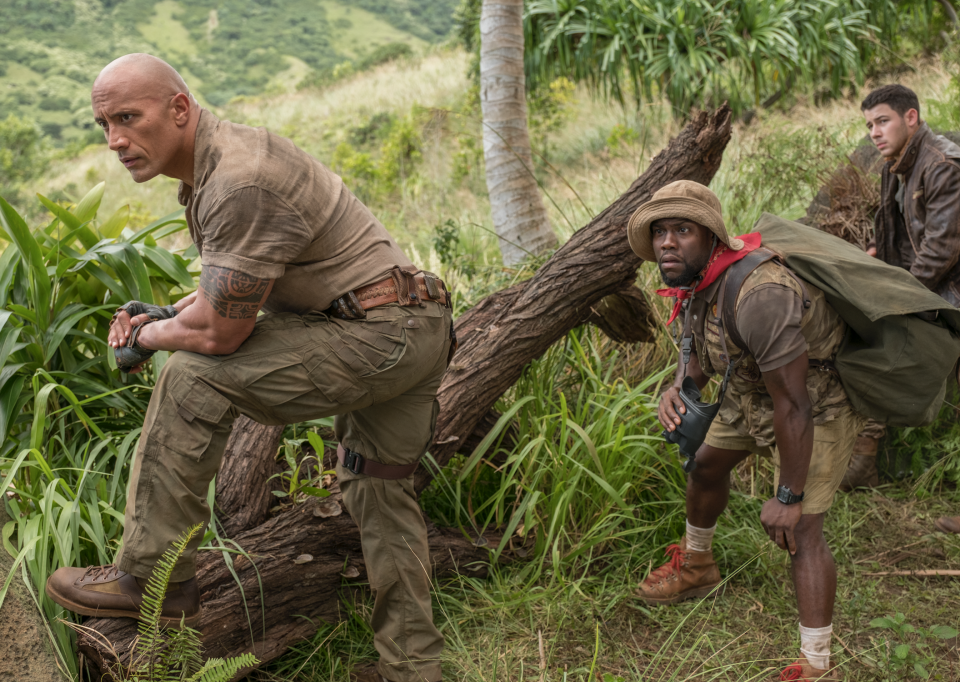 If you remember the popular family action Jumanji film, you probably have nostalgic memories of Robin Williams' character Alan Parrish an adventurer who navigated his way through dangerous jungles in an attempt to bring the kids back to safety. Fast forward 22 years, rolling out is invited to the set of the Jumanji reboot titled Jumanji: Welcome to the Jungle. And we had the chance to speak with the stars of the film – Kevin Hart and Dwayne "The Rock" Johnson – to find out exactly how the film pays tribute to the original and what moviegoers can expect.
Here's what they had to say.
What can you tell us about your character, Moose FInbar? 
Kevin Hart: I play a small guy in a different world that's complete opposite of the high school version of who this individual really is. But the thing that's amazing, is that who he is on one side is completely different from the person that he's forced to be on the other side. With every movie that you do, you always want to make sure there's an inside message, something that people can walk away and take from the film. I think we put a lot of small innuendoes in here that people will be able to kind of wink at and understand and agree with. You want to switch up what you can. You want to be different and separate yourself from other things that have been done. I think in this case, we're doing so with all of the characters, including myself.
With Dwayne, is your chemistry similar to what you guys had already built together, and how do you go off in different directions?
KH: Look, there's chemistry, plain and simple. We're good friends. We're both professionals. We're all about the project. How can we make the project better? It's not about us as individuals or what star stands out the most. It's about the movie. So for us, it was just getting the script right. How do we make the material right? Do our characters have an arc? Do our characters have a purpose? Do our characters have a reason to be rooted for or not rooted for? That's the depth that we go through. When you have somebody that puts just as much time into a project off camera that they do on camera, it says a lot about that individual. In this case, it's something that we both did. We worked on the script for months before, and we got here two weeks before to do rehearsals, and more stuff just to make sure that the chemistry is there, and it is.
You've made a lot of movies at this point. What was the special challenge or, I don't know, the thing you had to rise to the occasion for, for this one? What was kind of the new element for you?
Dwayne Johnson: I think it was creating … I think it was creating a movie that can compete with the other movies that come out, where it's suppose to come out in the summer. And also, if it's going to be an ensemble cast like this, and I've had the opportunity to work with some really good ensemble casts, great ones in Fast and the Furious, G.I. Joe, Baywatch, now. There is a certain dynamic that the cast has to have and when you think about Jumanji and you think about it because it's a beloved movie, and it became even more beloved in the passing of Robin. So, it's a great trigger that happens with people that I've found is that people are excited about it and hopeful and there's a tremendous amount of trust. Like, OK. I get that sense. We trust you.
And when you have an ensemble cast like this, who hasn't had a lot of opportunity to work together, I worked with Kevin in a movie before, and we've become really close, so there's a nice dynamic that we have, but you never know how things are going to gel together. And in this case, we have … the cast just really came together, just in an incredible way. I signed on, Kevin was attached. Jack Black really was the first one to read the script well before us, and it wasn't in the place that he had liked.
The Rock plays Dr. Smolder Bravestone.
Check out the trailer for Jumanji: Welcome to the Jungle after the jump.