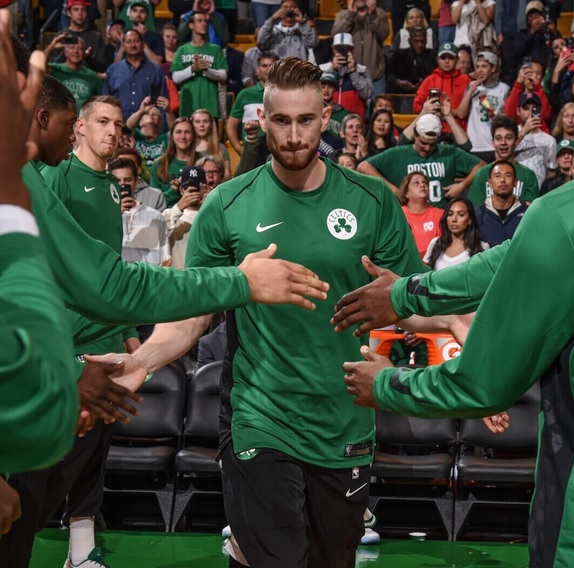 Five minutes into the first game of the season, Boston Celtics star guard Gordon Hayward fell to the floor with one of the worst-looking injuries in recent basketball history. Kyrie Irving threw Hayward an alley-oop that Hayward quite couldn't get to and he landed awkwardly on the ground. Hayward sat up looking at his leg in shock with his foot going in a different direction than the rest of his leg. Players and fans of both teams were clearly saddened by the injury.
"I didn't see it. I just saw the reaction from everyone, but there's no way I could've watched that. So yeah, there's no way I could've looked at it," Cleveland Cavaliers guard Derrick Rose said.
Rose, the 2011 NBA MVP, has been injury prone. From the 2011-12 season to the 2013-14 season, Rose only appeared in 49 contests.
Hayward was expected to be a piece of the new Boston trio of all-stars alongside Al Horford and Irving. Although the team is only returning one consistent starter from last season in Horford, the reigning No. 1 Eastern Conference seed is returning key players such as Marcus Smart and Jaylen Brown. Now, the team looks for increased roles already from Brown and 2017 No. 3 overall pick Jayson Tatum.
"At the end of the day, there's still a game to be played," Irving said. "As s—-y as that sounds, but there's still a game to be played. We understand that we're professionals. So when one of our brothers go down, we just pick the rest of our brothers up and understand that we send our well wishes to him and his family and we'll see him on the plane and he'll do what's needed for him to honestly start the process of getting back healthy."
Oklahoma City Thunder forward Paul George gave his initial thoughts on Twitter. George suffered an identical injury in 2014 playing for the U.S. Olympic team.
Naw G! 😰

— Paul George (@Yg_Trece) October 18, 2017
God bless you bro @gordonhayward ! 🙏🏾 help him thru this god!

— Paul George (@Yg_Trece) October 18, 2017
— Paul George (@Yg_Trece) October 18, 2017
Hayward's former teammate in Utah Rudy Gobert also shared his wishes.
Hate to see @gordonhayward go down like that. I know he will be back stronger and wish him the best recovery possible.

— Rudy Gobert (@rudygobert27) October 18, 2017
A host of other players joined in.
Lord , Carry Him Now 🙏🏾@gordonhayward pic.twitter.com/jEnvghETW1

— Dwight Howard (@DwightHoward) October 18, 2017
🙏🏽🙏🏽🙏🏽 @gordonhayward. Only God has ALL the answers.

— Shaun Livingston (@ShaunLivingston) October 18, 2017
Can't even put into words.
Gordon Hayward.
Feeling for you man.
Absolutely gut wrenching.

— JJ Watt (@JJWatt) October 18, 2017
@gordonhayward want you to know you are a #Celtic & you are not alone, we #bleedgreentogether

— TheBillRussell (@RealBillRussell) October 18, 2017