Slain US Special Forces hero's aunt says Trump is an 'SOB' and 'liar'
Myeshia Johnson, 25, is Sgt. La David Johnson's widow. He was killed in action in West Africa. Democratic Rep. Frederica Wilson says she was listening in on speakerphone when Myeshia took President Donald Trump's call on Tuesday, Oct. 16 while driving to Miami International Airport to meet her husband's repatriated body.
Trump reportedly told Myeshia, who is expecting the couple's third baby in January, that her slain husband "knew what he signed up for" during the telephone call to offer his condolences. Trump denies he said it.
In an interview with Daily Mail, Myeshia's aunt Katrina Johnson says she believes her family and Rep. Wilson's account of the conversation and says Trump's supposed comments are a grave insult to her patriot nephew.
"La David was a hero who died fighting for this country. He loved doing what he was doing. He sure as hell didn't sign up to be disrespected," she said.
"That's not something Trump should tell anyone, let alone a grieving widow. I'm not just talking about my nephew, there were three other people who died with him.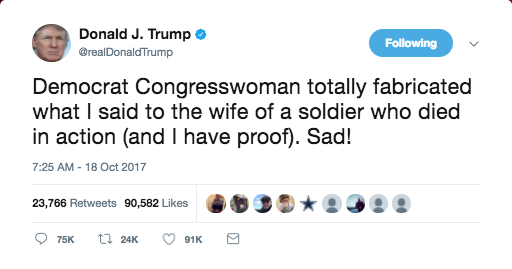 "These people are not robots, they all have grieving families too. I'm hurt, upset, disgusted. We are just gonna say the President is an S.O.B and leave it at that."
Sounds like Trump is getting back his own medicine he served to NFL players who take a knee during the national anthem. He called them, "SOBs."
During a television interview, the aunt said, "President Trump is a liar … If he was taping the conversation, bring it on!"
While on patrol in the African nation of Niger, Sgt. Johnson, 25, and three other Green Berets – Staff Sgt. Dustin Wright, Sgt. Bryan Black, and Staff Sgt. Jeremiah Johnson – were riding in unarmored trucks with Nigerian troops when they were ambushed and killed on Oct. 4 by Islamist militants thought to be linked to ISIS.
His other aunt, Cowanda Jones-Johnson, who along with her husband Richard Johnson raised Sgt. Johnson as her son after the death of his biological mother, Samara Johnson, who reportedly died of Tuberculosis in 1999, also says Rep. Wilson is telling the truth. She says. "I was in the car and I heard the full conversation."