Hip-hop collectives have always played an intricate role in rap. From the battle rap days of the Juice Crew, to the eclectic sounds of Native Tongues, to the Southern rap renaissance started by Dungeon Family, and to the ultimate rap crew, Wu-Tang Clan, hip-hop collectives can define an era through music, style and attitude.
But there can also be a gift and a curse when it comes to the hip-hop collective. True talent can easily be recognized and it's also obvious when the lead artist is just looking to give their neighborhood friends a job. The most significant hip-hop collectives are not members of an entourage looking for a check. The greatest collectives consist of culture-defining artists who just happen to be friends.
Enter Hustle Gang. T.I.'s latest crew features a collection of new artists and familiar faces. Young Dro, B.o.B, Trae Tha Truth, Tokyo Jetz, Translee, Yung Booke, RaRa, 5ive Mics, London Jae, and Brandon Rossi bring different styles and combine talents on their debut album, We Want Smoke.
"I think that we are more different than any other collection of guys and girls that have been assembled from the city," T.I. says of Hustle Gang. "We have so many different vibes and styles. You can go to a conscious rap with Translee, to being as ratchet as Young Dro. You can get an intellectual like B.o.B, to the young, hip, and unapologetically ghetto Yung Booke. We can be as melodic as Rossi and London Jae to freestyle battle rap with 5ive Mics and Toyko Jetz, who can kill s— at will, any way possible. [There are] just so [many] different vibes going on [and] they all mesh well together. You know what I mean? And I think that me and RaRa got the market cornered on the dope boy s—."
"It's like when everybody comes together and is doing their thing, it's crazy," Young Dro reveals. "When I hear London Jae, it's impossible to ignore. We got Dope Boy RaRa. Shawty gave you beats and at the same time shawty might sell you a brick [laughs]. [There is] a whole lot of talent over here. And when I get in the room, I'm just kicking s— that I been kicking that me and T.I. have been kicking before they got here. I hope that they understand where we come from and respect it because we do respect their skills as well. Also, shout-out to the strip club culture. They make us hot. They break records in there."
T.I. is betting on Hustle Gang being the hip-hop collective that adds to his legacy in rap. Opening doors for new artists shed new light on his career that spans nearly two decades.
T.I. is in the midst of his third or fourth act in hip-hop, starting with the trap boy dreams of I'm Serious and Trap Muzik, to gaining international stardom that made him a household name in music and film, to the legal issues that threatened his livelihood and career, to showing his family life on "T.I. & Tiny: The Family Hustle."
But in this act, T.I. goes beyond the trap, rap, and entertainment for the greater good. He has embraced activism by becoming a leading voice against police brutality and other forms of racial injustice. One day before this writer sat down with T.I. for this interview, he joined hundreds of protesters who marched in front of an Atlanta-area Houston's Steakhouse after reports emerged of racial discrimination. The march and protest came two years after a Black attorney sued Houston's parent company, Hillstone Restaurant Group, after several people of color were reportedly asked to leave the location by management. For T.I., discrimination in any form should not be tolerated.
"We have to make sure the value of our dollar is respected," T.I. explains. "The only way you can do that is if you threaten their business. If there are no consequences, why would there ever be a change? We have driven revenue to this city for decades. We are responsible for billions in profits and revenue. You don't have to like how l look, but you will respect this bankroll or we'll shut your business down."
[cigallery]
T.I.'s Atlanta is in a strange place in 2017. Although Atlanta remains the cultural epicenter of hip-hop, it's on the verge of going through an identity crisis. Without a doubt, Black culture gave Atlanta the flavor that makes it a city that's often coveted by outsiders. Beginning with the strength of Martin Luther King Jr. and the Civil Rights Movement; Maynard Jackson's empowering of Black businesses; OutKast, LaFace, and So So Def's stronghold on the music industry; and the allure of trap music, which is now a worldwide phenomenon, Black people and Black culture are the main reasons Atlanta is so beloved
But the Atlanta that we once knew is now fading. As its mid- to low-income housing is being replaced by condos that sell in the high six figures, longtime residents are being squeezed out of traditionally Black neighborhoods and renters are being pushed south of the city or outside of the perimeter to find affordable locations to live. Indeed, gentrification threatens to snatch the soul of Atlanta.
"I know what the culture of Atlanta means," T.I. says. "It came to prominence by us shining a light on it; that made it noticeable. I remember life in Atlanta before OutKast. It's nothing like it is now. Although we appreciate Sammy Sam, MC Shy D, and Kilo Ali, until OutKast, So So Def, and LaFace came, we weren't recognized and appreciated abroad like we are now. I believe we got it here. There are some conservative 'stuffies' who want to take it over. They just want to tear down everything and build big buildings. But Atlanta isn't about that. It's not about Black and White to me. It's about culture. Even if Atlanta is no longer a majority Black city, it's important that the culture remains rich. For instance, Harlem has been gentrified, but the Apollo is still the Apollo. When the Apollo isn't the Apollo anymore, Harlem will no longer be Harlem. You have to change in order to grow. But as long as it doesn't lose its identity in that growth, we can still win. I know some cool White people who have good vibes and have great perspectives, but you're not about to bring that tiki torch White s— to Atlanta. It's not just about my generation, it's about the people who came before us, such as Andy Young, Martin Luther King, and Joseph E. Lowery. We aren't going to let their legacy go out bad."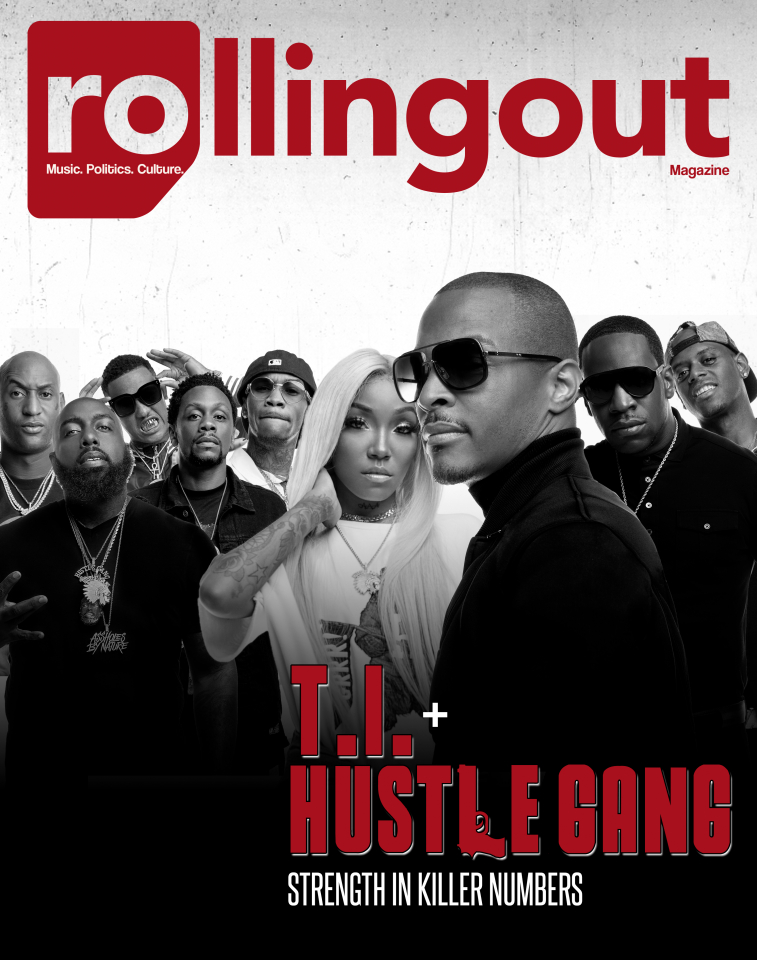 T.I. will continue his activism by using his platform to inspire change. However, the trap will forever be a part of his DNA. The term that began as slang in the urban communities of Atlanta has become a subgenre in rap and inspired other subgenres such as EDM trap. T.I.'s Trap Muzik helped lay that foundation.
"People always ask me, 'How do [you] still kick this trap s—?' " T.I. says while laughing. "Like, 'You rich. We see you on 'Family Hustle.' We know how you live. You're a daddy.' But it's kind of like an alcoholic who's going through the 12 steps of recovery. He's been clean for 15-16 years, but he can still tell you very vividly how alcohol tastes. He can still tell you very vividly how it feels to be drunk. He can still tell you vividly how he hit rock bottom and what made him change his life. I've earned the right to talk this trap s—. I have a testimony."
Following the Hustle Gang project, T.I. will release the sequel to his classic Trap Muzik album.
"Well, this is my 10th album," T.I. says. "I always felt that Trap Muzik was one of the most influential projects that I did and I feel like with trap music taking on a whole genre of its own that right now would be a perfect time to revamp it to establish what my version of trap music is and would be today. And that's what we're doing. That's my next project."
The Hustle Gang album is an introduction to a new era for T.I. Artists such as Young Dro, B.o.B, Trae Tha Truth, Tokyo Jetz, Translee, RaRa, 5ive Mics, Yung Booke, London Jae, and Brandon Rossi all have the skills to keep the Grand Hustle legacy alive.
He says, "Usually, I'm in control of the entire project, from top to bottom. But not with this one. For me to relinquish that kind of power and control, that means I really trust and believe in their voices, visions, and their talents. I feel like everybody here does something different and everybody here has a perfect idea of what it is they do. So I can step back and they can take the front and take the lead and really direct it to a different place than I would have directed it to. And I think that is how you diversify and evolve and grow as a brand. I want this to be different. The only way to do that is to let these voices and visions have it their way. So that's the difference with Hustle Gang."