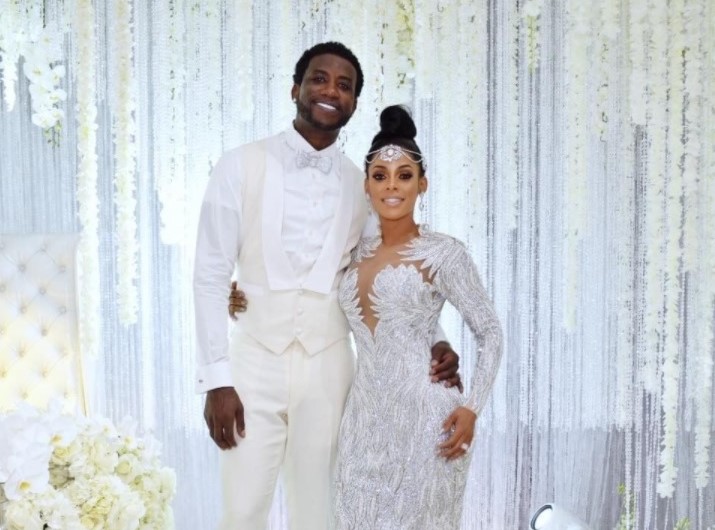 Gucci Mane and his new wife, Keyshia Ka'Oir, have been the talk of the town all week long, thanks to their million-dollar dream wedding that aired on BET earlier this week. And although more than a million people tuned in to watch the wedding special on TV, there were two major people in Gucci's lives who also had to watch the ceremony from afar: his mother and brother, who recently spoke out and explained that he and their mother were not invited to the high-profile wedding.
Gucci Mane's brother, Nate, recently spoke up about the wedding and explained that he is trying to get over the fact that his brother didn't want him at his wedding.
"He didn't let me go to the wedding but I'm happy for him. He went through hell to get to paradise where he at now but me or my mom didn't go. We still reflect on it and that's just another chapter we have to close in our life," Nate said.
However, he explains that it hurt him that he wasn't a part of such a special moment in Gucci's life.
"I feel real[ly] bad that Ray didn't invite me to his wedding. I really wanted to be there for him, just for, as a brother's standpoint to support you, guide you, however, you need me to just as a brother because I am my brother's keeper. For me not to be invited, I don't know how to feel. I thought I know you [Gucci], but I don't even know you," Nate said.
Adding insult to injury is likely the fact that Gucci invited his other brother, Duke, to be his best man in the wedding. And though Nate is definitely hurt about the situation, he went on to explain that he's sure their mother is heartbroken over not being invited to the wedding.
"She didn't get invited either. I don't know, it's hard because I don't know, she [doesn't] know. For her to see her to see her kid to get married I'm quite sure that's a dream she really wanted to see come true," Nate explained.
Nate also discussed the star-studded wedding guest list, which boasted stars like Monica, Rick Ross and Diddy, and he considered the possibility that maybe he and their mother weren't invited for production reasons.
"I don't know. You never know but I guess if you at the top you've gotta keep people around you that at the top so you won't feel left at the bottom," Nate said.
Nate then seemingly posed a question to Ka'Oir about his own brother's character. "The best way, the best approach is at least having your mother there. If a man [doesn't] care for his mother, how can he care for you?"
What do you think of the Gucci Mane not inviting his mother and brother to his wedding? Let us know in the comments.