Ashanti blasted for returning unwashed, dirty bikini to owner
Singer Ashanti has not really made the news in more than a decade for anything revolving around new music or movies. But she has made a handsome living as a popular Instagram model, and recently she modeled an expensive bikini for a Ciroc ad that got a lot of hits on social media.
However, the person who lent Ashanti the handmade bikini is steaming mad. Apparently, the store owner, who goes by Aidan Euan, posted some cringe-making photos of a nasty, filthy bikini that was returned by the singer.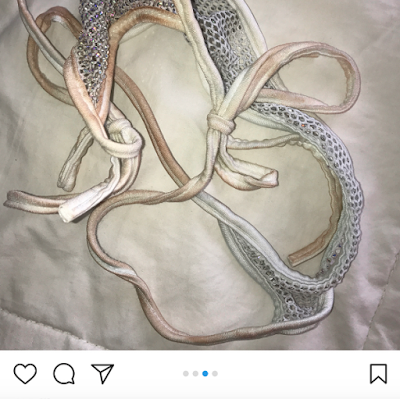 Euan said he tried to reach out to her and her team but that the attempts to solve the problem amicably and silently failed because he got no response back from Ashanti. Therefore, Euan put Ashanti on full furnace blast by posting and deleting photos on social media.
And then Euan had this to say:

Euan went on to add that small business owners "like myself to keep quite and say in fear of ruining ones (sic) reputation and possibly loosing (sic) possible clients when thee is so much passion, investment, and hard work that goes in what may seem like a simple cute glittery bikini to some. This bikini for example as I've mentioned before is all hand made, with 16 hours of labor and over 6,000 hand place Swarovski crystals that I personally placed. This was a free of charge pull and the bikini was to be used in another planned pull in another right after this project.
"I lost the pull that followed with a stylist I highly respect because the bikini was returned damaged and unwearable. I've been fishing and chasing a discounted reimbursement that I have still have yet to receive. Your campaign and yourself look beautiful but I'm still getting brushed under the rug over something that only seems fair."
So, what do you think? Do you believe it was right for the proprietor to put Ashanti out like that, or do you think Ashanti was in the wrong on this?