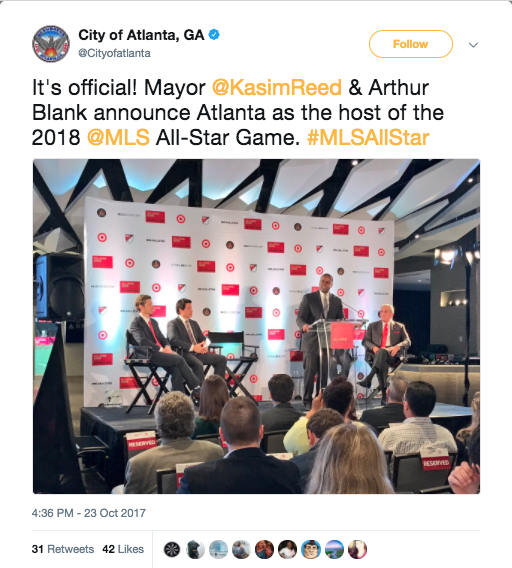 "If there's one group that deserves the most applause, it's the Atlanta United supporters,"
Arthur Blank
said today during a press conference where he and City of Atlanta Mayor
Kasim Reed
announced Atlanta will host the 2018 Major League Soccer All-Star Game at Mercedes-Benz Stadium.
Reed praises Blank, "Arthur Blank was able to look around the corner and see what no one else could, and here we are, beyond our dreams."
The Mercedes-Benz Stadium is home to Atlanta United, the city's first ever soccer team which is owned by Blank, who is also the owner of the Atlanta Falcons.
MLS Commissioner Don Garber said in a league statement, "We're proud to bring our 2018 All-Star Game to Atlanta, a city and Club that have taken Major League Soccer by storm. Atlanta United's success is one of the most compelling and impressive expansion team launches in the history of pro sports, and a testament to Arthur Blank's vision and leadership, and the tremendous team that he has built both on and off the field.
"Atlanta and its supporters have earned the opportunity to host MLS All-Star week and showcase their passion for the beautiful game."
According to MLS, Atlanta United has already broken MLS attendance records, averaging an unprecedented 48,200 fans during the regular season, as well as twice setting the MLS single-game attendance record, most recently reaching 71,874 on Sunday against Toronto FC.
Atlanta will host nearly a week of ancillary events, including concerts, community service initiatives, player appearances, as well as an additional showcase match featuring the best young players from around the league.
Blank add, "We are honored to host the 2018 MLS All-Star Game at Mercedes-Benz Stadium. Along with events such as the Super Bowl, College Football Playoff National Championship and NCAA Final Four, being selected to host the MLS All-Star Game in Atlanta again delivers on our promise to bring the biggest events in sports to Atlanta. The Atlanta United supporters and fans of the game from across Atlanta are incredibly dynamic and passionate; they will certainly play a huge role in making this a memorable MLS All-Star Game for the league and a special showcase for our great city and stadium."
Reed closes, "We are honored that our city with its vibrant and diverse population and deep love for soccer has been chosen to host the 2018 MLS All-Star Game. The people of Atlanta look forward to showcasing our city and Mercedes-Benz Stadium next summer."