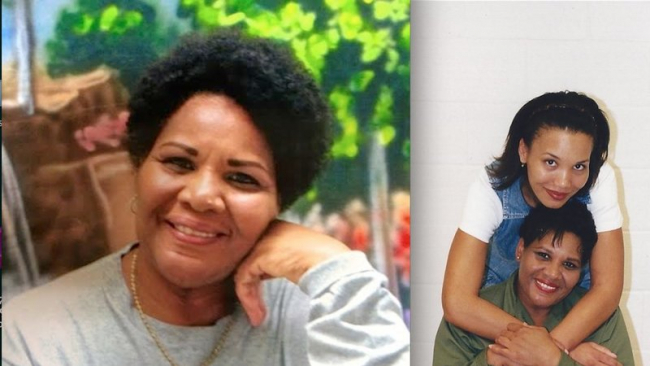 Your heart hurts when you hear stories like that of 62-year-old Alice Marie Johnson. She has grandchildren and great-grandchildren, but because of mandatory minimum sentencing laws, she will never see them outside of prison, where she is serving a life sentence without parole for a nonviolent offense.
Johnson was sentenced to life without parole in 1996 for nonviolent drug conspiracy charges, and after 21 years in prison, Johnson's only hope of ever seeing the outside world is clemency.
A poignant video op-ed was published on Mic.com, where Johnson explains the effect that prison has had on her family, and how one of the "worst mistakes" of her life landed her behind bars.
"One of my family members one time, and I'll never forget this, they said that coming to visit me in prison is like visiting a gravesite," she said. "They said that they can see the place where my body lay but they could never take me home again."
Johnson was a single mother of four when she lost her job in management in the 1990s, and to feed her family, she made a decision that has negatively impacted generations of her family.
"I struggled financially," she recalls. "I couldn't find a job fast enough to take care of my family. I felt like a failure. I went to a complete panic and out of desperation, I made one of the worst decisions of my life to make some quick money. I became involved in a drug conspiracy."
Johnson was charged with conspiracy to possess cocaine, attempted possession of cocaine, and money laundering. The Mississippi native is currently incarcerated at the Aliceville Correctional Facility in Aliceville, Alabama.
Johnson will mark 21 years in federal prison next Monday (Oct. 31). Most tragically, Johnson was unable to be with her parents during their final days on Earth. She feels the extreme pangs of missing the births of her four grandchildren and a great-grandchild.
The one thing Johnson is able to hang her hat on is the fact that she's become a respected playwright.
"The plays that I write have been viewed by literally thousands of women," Johnson said.
In 2016, President Obama made history by commuting more sentences for nonviolent drug offenders than any other president in history. But while Johnson's record easily shows that she has been a model prisoner, she was not approved for release then — or now.
"When the criteria came out for clemency, I thought for sure — in fact, I was certain that I'd met and exceeded all of the criteria. I had 100 [percent] clear conduct, for the entire time my entire time in prison. No disciplinary infractions," Johnson said revealing that receiving letters of support from members of Congress, the public, and prison staff didn't help her get released. "I had so much support. I was denied again with no explanation given, so it leaves me wondering what more I could have done."
Since then, Johnson is now trying to raise awareness and push for criminal justice reform.
"Please wake up, America, and help end this injustice. It's time to stop to stop over-incarcerating your own citizens. Because that is what is going on," Johnson told Mic in an interview.
According to the ACLU, 3,278 people are serving life sentences without parole for nonviolent offenses, with most of those sentences being mandatory. That means judges had no discretion over the sentencing and were instead held to minimum sentencing laws that disproportionately impact Black people, with 65 percent of people serving life without parole for nonviolent offenses being Black.