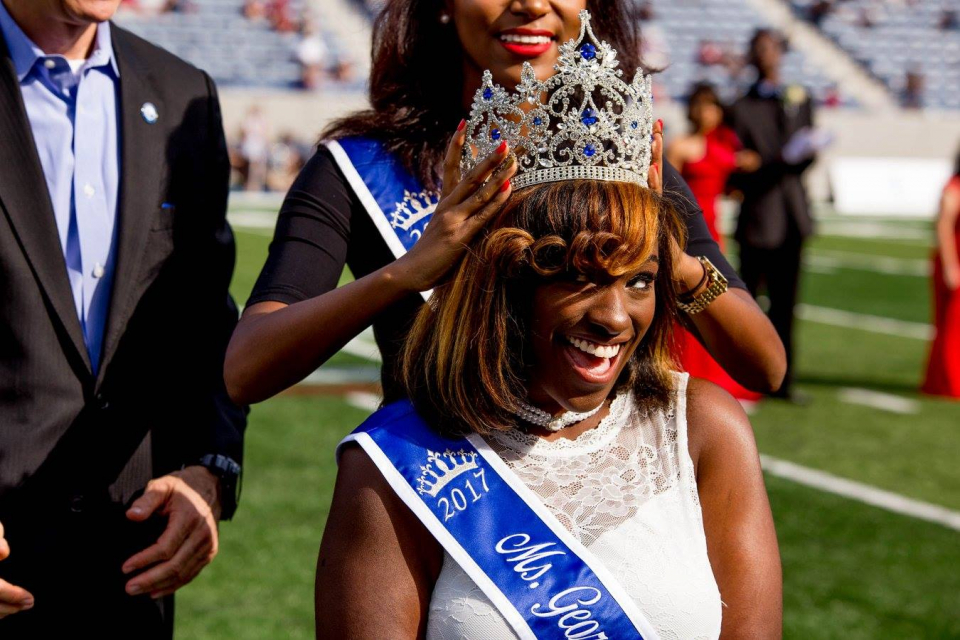 During homecoming this past weekend, Georgia State University crowned its newest Royal Court, including Norae Woodard as the 2017-2018 Ms. Georgia State University, making her the sixth consecutive Black Ms. GSU since 2012.
Georgia State University is the most diverse institution in the state of Georgia and is No. 1 in the nation for awarding the most bachelor's degrees to African Americans, beating out prestigious HBCU's such as Florida A&M University and North Carolina A&T State University, so it's not a surprise that Black students dominate the court.
Though Black students currently dominate the court, they are not the only ones who are represented. In 2011, Grace Lee and Neftali Hernandez were crowned as the first Korean-American Ms. Georgia State University and the first Latino Mr. Georgia State University, respectively.
Since the crowning of Lee and Hernandez, The Royal Court has had the honor of having kings, queens, princes, and princesses of many diverse backgrounds, including White, Chinese-American, Nigerian-American, and mixed raced American.
"The Royal Court embodies a group of diverse individuals that each represent different ethnicities, different cultural/religious backgrounds and different majors that each embody their chosen aspirations in life to help others," said Ashanti Brown, the traditions chair for Georgia's State's spotlight programs board. "Altogether, they come as one as a melting pot to represent GSU's broad diversity as they too inspire others of different ethnicities and chosen career paths."
Not only does the court represent ethnic diversity, but also diversity in campus involvements. Many of the past kings and queens belong to Black Greek letter organizations, representing Alpha Phi Alpha, Alpha Kappa Alpha, and Delta Sigma Theta Sorority Inc.   
Though homecoming court may be just a popularity contest for many schools, Georgia State highly vets candidates for the Royal Court. First candidates must apply, go through a strenuous interview process, then three candidates for each category of the Royal Court are announced. Students vie for the coveted titles of Mr. & Ms. Georgia State University, Mr. & Ms. Blue & White, and Mr. & Ms. Perimeter.
Following the candidate announcements, Royal Court hopefuls have a week and a half to create campaigns that successfully reach the staggering 54,000 student body. In recent years, candidates have taken homecoming campaigning to new heights, creating iconic flyers with pop culture references like Future's Dirty Sprite 2 and J. Cole's 2014 Forest Hills Drive, and campaigns set to inspire the population to believe in yourself.
After campaigning has ended and voting polls close, Royal Court hopefuls take to the Georgia State football field to find out if all their hard work has paid off. 
Following the crowning of the new court, winners must stay true to their platforms and present programs and community service initiatives to better serve the Georgia State and Atlanta community.  
All photos are via Georgia State University Facebook, except where noted otherwise