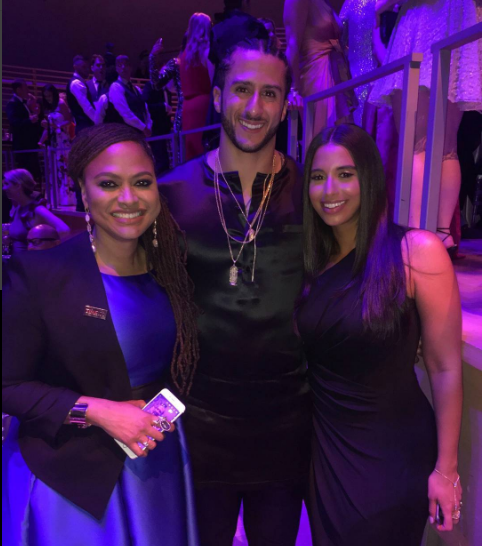 Colin Kaepernick has become an icon in the sports, music and entertainment worlds because of his brave social stances. It's about time he gets some love from his own league that has virtually exiled him. 
The former NFL quarterback and cultural lightning rod is finally going to have his grievances heard by the National Football League. The former San Francisco signal-caller is going to attend the next round of meetings between the NFL players and owners. The meeting is set for Tuesday in New York, a league spokesman said Wednesday.
Many supporters, which shockingly include white superstar quarterbacks Tom Brady of the New England Patriots and Green Bay's Aaron Rodgers, are most likely saying to themselves and each other that this meeting should have taken place last year. For those who do not yet know, Kaepernick is the first player of the modern era to protest the national anthem by first sitting and then kneeling as a way to combat rampant police brutality and racial injustice.
According to ESPN.com, NFL spokesman Joe Lockhart said he expects Kaepernick will be invited, although there is no confirmation of whether he would accept the invitation. The players are extending the offer, not the NFL, Lockhart said on the league's weekly conference call.
"We look forward to him joining the conversation," Lockhart said.
Eagles safety Malcolm Jenkins invited Kaepernick to a special meeting between NFL owners and players on Oct. 17 in New York. That meeting included 13 current or former players, plus 11 owners and representatives from the league and the NFL Players Association.
Kaepernick, who filed a grievance against the NFL owners on Oct. 15, alleging they colluded to keep him out of the league, did not attend that meeting. He is not working through the NFLPA but has hired high-profile lawyer Mark Geragos to represent him.
The quarterback attracted national attention in 2016 when he kneeled during the national anthem before games to protest social injustice. His action led to a movement that spread throughout the NFL but has been vilified by high-profile critics, including Donald Trump.
Kaepernick has not played for an NFL team since he exercised a clause in his contract and left the 49ers in March.