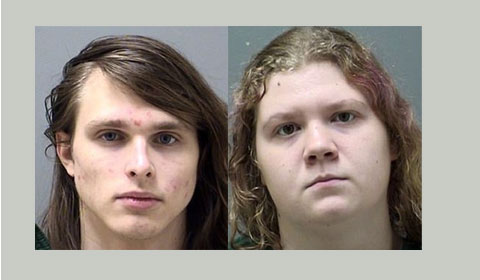 Police in Cherokee County, Georgia have announced the arrests of two students who were planning a deadly attack at their high school. According to the Cherokee County Sheriff's Office Alfred Dupree and Victoria McCurley, both 17, are being charged as adults on three counts of criminal attempt to commit murder, and four counts of terroristic threats and acts. The pair also face charges of attempted arson, possession and/or transportation of an explosive with intent to kill, injure or destroy any public building. Teachers and students at Etowah High School in Woodstock, Georgia were the targets in the planned attack.
Their arrests came after police received a tip about the pair and a search warrant was executed on the home of Dupree. Police discovered a personal diary that detailed who the pair were going to kill at their high school. When they searched the home of McCurley they discovered a homemade explosive device and an unknown powdery substance that was sent to a Georgia Bureau of Investigation (GBI) for analysis. Also recovered were firearms in the home that were not impounded by police but left with the family of the suspect.
The arrests came as a terrible shock to parents and students of the school, which is about an hour's drive from Atlanta. Cherokee County schools spokeswoman Barbara Jacoby stated to the Atlanta Journal Constitution that the school "will not tolerate violence — or threats of violence — at any of our schools."
She further stated, "This stand will be reflected in the severe administrative disciplinary actions we will take against these students." She continued, adding that the district "deeply appreciates the community member who reported information to the Woodstock Police Department tip line that ultimately led to these arrests by the Cherokee Sheriff's Office."
The Cherokee Sheriff's Office said they believe the teenagers' mental health issues may have been a factor. The pair will make an initial appearance in court today at noon to be formally charged.