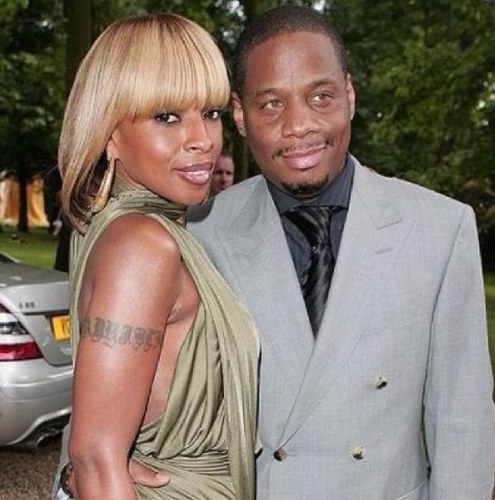 Most people already thought that Kendu Isaacs, the disgraced deadbeat ex-husband of Mary J. Blige, was smoking that really good stuff when he took Blige back to court. He was already getting $30K a month in spousal support, but he went back to the judge to get it doubled — to an astronomical $65K a month — using the excuse that her "divorce songs" ruined his reputation nationwide so he couldn't get a job.
A judge did not take long to shoot Isaacs down and make it clear that he's already getting plenty from the legendary songstress. The Blast reports that Blige will continue making the same $30K per month payments to Issacs.
The publication also reported that Blige told the judge the money Issacs wanted from profits from her music is based off royalties and he's not entitled to it.
When the merciless Black Twitter got ahold of this information, that the already taken-care-of Isaacs was trying to stick both his hands all the through Blige's pocketbook, they dragged Isaacs like a bunch of beer cans on the back of a wedding limo.  Take a look at some of the classic responses below: 
#KenduIsaacs is a SCUM BUCKET Let's see @brianalatrise try to defend this fuckery….

— HarryDred (@HarryDred92nd) October 24, 2017
Sumbody tell Kendu Isaacs 2 move n w/Brianna,THEY NEED EACH OTHER,& STOP TRYN 2 GET MARYS MONEY! #Bum #KenduIsaacs #MartinIsaacs #MaryJBlige

— ❤️❣KHANDI KASHMIR❣❤️ (@KIIIKIIIKASH) October 24, 2017
#MaryJBlige's ex-husband #KenduIsaacs is garbage for asking for more alimony: https://t.co/wcwLfs4j3y

— Rickey Smiley (@RickeySmiley) October 24, 2017
#KenduIsaacs=scumbag. appropriate, cheater cheater pumpkin eater. #DonkeyOfTheDay

— Cocoa Marketing (@cocoamktgbiz) October 25, 2017
What a BUM!!!! #KenduIsaacs
No one was checking for you but Mary!

— Kandi (@Kandic21) October 26, 2017
What a BUM!!!! #KenduIsaacs
No one was checking for you but Mary!

— Kandi (@Kandic21) October 26, 2017
#OhReally? #KenduIsaacs Accuses #MaryJBlige of Ruining His Career, Wants More in Spousal Support: https://t.co/Cs9TOKMJt6 pic.twitter.com/Ks6rjHmhYz

— Urban Belle (@UrbanBelleMag) October 24, 2017
#kenduisaacs wants more #spousalsupport claims #maryjblige is hindering him from finding employment pic.twitter.com/1HK3nKJBVF

— Sir Fun Size Smile (@kiah_gaddy) October 23, 2017