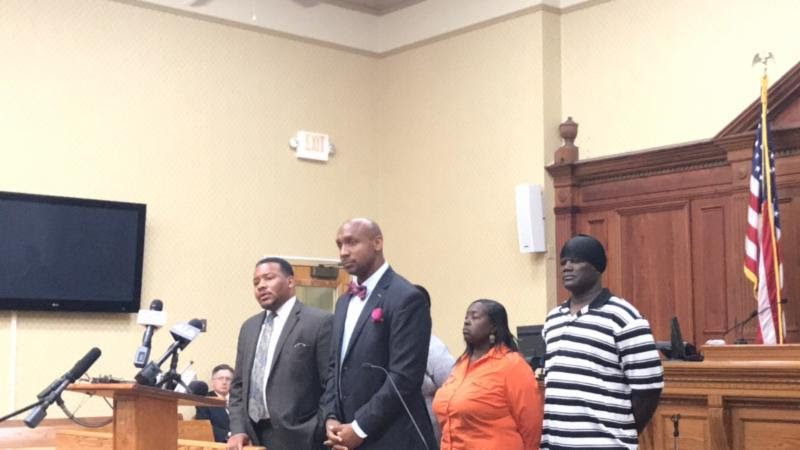 The family of Eurie Martin and their legal counsel were informed that District Attorney Hayward Altman will present felony murder charges to a grand jury against three Georgia deputies. Martin was tasered to death during an encounter with the three Washington County sheriff's deputies this past July. Attorneys Mawuli Davis and Francys Johnson are their legal counsel. Sheriff's deputies Rhett Scott, Michael Howell and Henry Lee Copeland will have the charges against them presented to a grand jury on Dec. 19, 2017.
Sheriff Thomas Smith said in a press statement the officers' conduct was in violation of several of the Washington County Sheriff's Office's SOPs. He says in part, "While this office was not directly involved in the investigation into the incident or the decision of whether criminal charges would be issued for the incident, the briefing from District Attorney Altman provided sufficient information for me to reach the conclusion that the conduct of Deputies Michael Howell, Henry L. Copeland and Rhett Scott included acts which are in violation of several of the Washington County Sheriff's Office's written Standard Operating Procedures," Smith terminated the employment of Howell, Copeland and Scott on July 7, 2017, in Deepstep, Georgia. He also said he is committed to ensuring that all personnel within his organization are properly trained and work in a professional manner.
Martin was simply taking a walk when he faced his stun gun death at the hands of these three Georgia officers.
Davis said of the indictment, "So often we have advocated for police transparency, accountability, and zealous prosecution of officers who violate the civil rights of citizens. On behalf of the Martin family, they are thankful that this district attorney and the GBI have handled this case with the gravity and seriousness it warrants. They are thankful to a community that has supported them and ask for continued prayers as they remain steadfast in their demand for justice."
Johnson added, "Today, with the announcement of intent to seek indictments against the responsible officers, the arc of the moral universe bends a little closer to justice. Sandersville, [Georgia], is a special place and she is made so by the quality of her citizens. Mr. Eurie Lee Martin was a son of Sandersville. We intend to pursue justice for his family as District Attorney Heyward Altman pursues justice on behalf of the people of the state of Georgia."