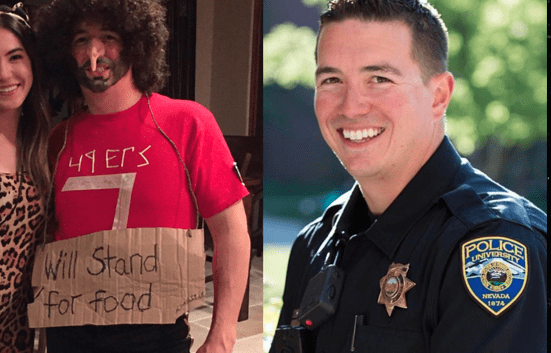 A racist police officer at the University of Nevada showed his true colors. The officer, Antonio Gutierrez, dressed as Colin Kaepernick during Halloween.
But instead of paying homage to the football player, Gutierrez mocked him by wearing blackface, a fake afro, a fake nose, and a sign that read, "Will stand for food."
Assistant VP of police services at the University of Nevada responded in a statement by saying, "Members of our profession are held to a higher standard and denigrating another ― on- or off-duty ― is insensitive for its lack of respect and lack of understanding on how others may negatively view their actions and may be impacted."
Although the costume was obviously offensive, Gutierrez will not be disciplined.
Gutierrez should not be allowed to be a patrol as an officer. He has proven that he doesn't have the capacity to be fair when it comes to matters of race.