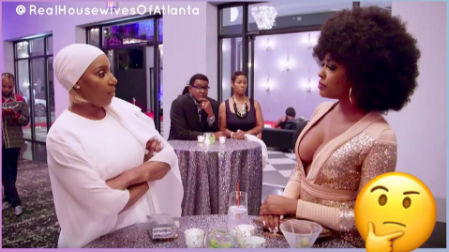 After what went down last season on "The Real Housewives of Atlanta," you think it would be hard to top the drama, suspense and intrigue of season nine, particularly with the fallout between Phaedra Parks and Kandi Burruss and the lies about a sex dungeon. But with the premiere date drawing near for season 10 of "The Real Housewives of Atlanta," Bravo is trying to quench your thirst with several juicy sneak peeks that promise that the crew will bring the noise once again.
Just last week, "RHOA" fans were able to see how Porsha Williams, a pawn in Parks' lie that Burruss wanted to drug Williams and then rape her, actually feels about the demise of her friendship with Parks.
And fans finally get a glimpse of the rift between Williams and NeNe Leakes, which occurred during Cynthia Bailey's 50th birthday bash.
In the clip above, Leakes and Williams hash out their differences during Bailey's party.
Williams was in her feelings about Leakes' "Watch What Happens Live" appearance, where she referred to Porsha and Phaedra as "Freak and Fraud," while Nene felt that their relationship was broken the moment Porsha refused to take her advice during the season eight reunion show.
Whatever the case, Leakes states in the clip that "the door is locked" on their friendship and I guess we'll find out if that door ever opens again during season 10.
"The Real Housewives of Atlanta's" 10th season premieres on Nov. 5, 2017.