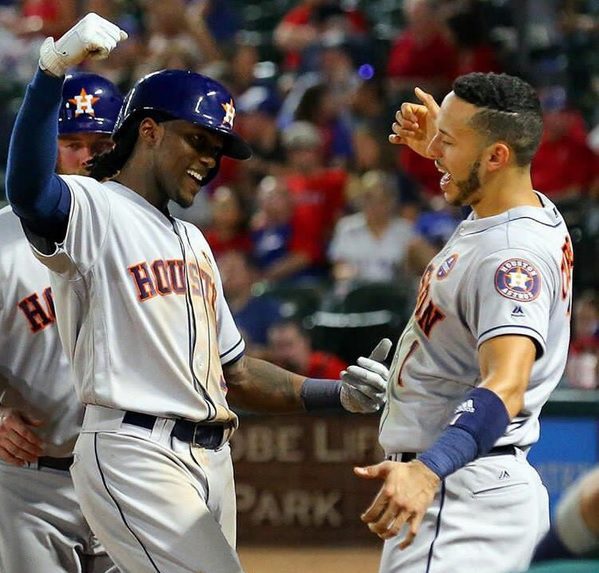 The Houston Astros defeated the L.A. Dodgers 5-1 in last night's Game 7. The win marked the first championship in the team's 56-year history. Outfielder George Springer won the Willie Mays MVP Award after tying the record for most home runs in a World Series with five long balls.
"I'm so happy for our fans who have endured a lot and we're coming home champions," an elated Springer said in the postgame interview.
Astros second basemen Jose Altuve is expected to be named the American League MVP after hitting .346,  81 RBIs, 24 home runs, and he hit three home runs in the team's first postseason game this year.
"We did this for them," Altuve said of Houston fans in a postgame interview. "I know it's been a lot going on in Houston since last year, but this is because of them. They're the biggest reason why we're here playing every day."
Many athletes and public figures used the "#HoustonStrong" hashtags that surfaced during the initial relief period of Hurricane Harvey, including Astros outfielder Cameron Maybin.
We battled. We persevered. We never gave up. We did it for the most deserving fans in the world.
We're #HoustonStrong & World Series CHAMPS pic.twitter.com/wtnXy1DUqY

— Cameron Maybin (@CameronMaybin) November 2, 2017
Maybin donated thousands of backpacks to children in the Houston area after the hurricane among his other efforts and he was nominated for this year's Roberto Clemente Award, which goes to the player who is outstanding on and off the field.
One of the greatest pitchers of his generation, Justin Verlander, has now won his first career championship. After being traded from the Detroit Tigers in September, Verlander had a 1.06 ERA since being in Houston and a 2.21 ERA this postseason. Verlander had to waive his no-trade clause to approve the move to the Astros. He said the only reason he agreed to the move was the chance to win a championship.
"On that night I said yes, this is what I envisioned," Verlander said in a postgame interview.
The Tigers' official Twitter account sent Verlander a congratulatory message.
For someone who has earned several honors over his career, we know this one is special. Congrats @JustinVerlander.

— Detroit Tigers (@tigers) November 2, 2017
Astros shortstop Carlos Correa proposed to his girlfriend, Daniella Rodriguez, the 2016 Miss Texas USA, on the field after the victory. He said that he'd planned to propose for months and he couldn't think of a better night to finally pop the question.
The Astros as a team lost more than 100 games for three consecutive seasons from 2011-13. The mediocre records allowed the franchise to build its farm system through the draft and the plan has finally been realized.