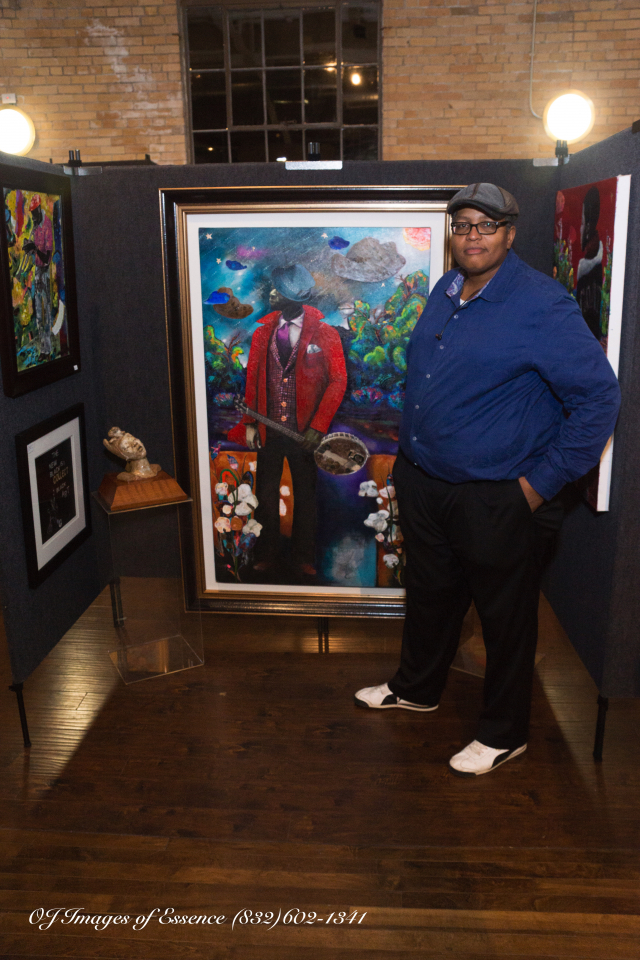 Do you love art? Are you a collector? Not sure where to start? Well, Black Art in America (BAIA) is changing the game in the art world. Founded in 2010, by Najee Dorsey, the BAIA art gallery is based in Columbus, Georgia, and offers fine African American art. They also hold workshops on issues like social media and art, today's contemporary African American art, and transforming communities through art. BAIA highlights breaking news, profiles of leading and emerging African American artists, and trends in today's art world. It's truly a resource for anyone from a novice to an expert art collector.
Recently, BAIA Fine Art Show stopped in Houston and was given a true Texas welcome as it kicked off the inaugural Black Art in America Fine Art Show Houston. The show had a spectacular opening night charity reception benefiting the Buffalo Soldiers National Museum. Artists and patrons sipped wine while getting a sneak peek at all the art. Some of the artwork showcased included pieces from John Biggers, Elizabeth Catlett, Richard Mayhew, Charly Palmer, Leroy Campbell, Ted Ellis and many more.
As the weekend came to a close, 2 Girls Who Travel had the opportunity to speak with the founder, Najee Dorsey. Check out the conversation below for all the details.
What do you hope the Houston community received or learned from attending the Black Art in America Fine Art show in Houston? 
My hopes are that the art fair attendees found art that enriched their lives, made new connections with other art lovers and were introduced to a number of talented artists whose works are now on their radar.
How would you describe your time in Houston?
Houston showed up and represented! Many of the fair goers were astute collectors interested in seeing the curated works and attending the educational workshops. Also, we worked with a good number of new art buyers.
What's next on the calendar?
What's next is to take some much-needed time off for ourselves. Then come back to the drawing board to assess the next markets for the BAIA Fine Art Show experience.
Anything you would like to leave our readers with about BAIA?
Yes, I want to express how successful the show was from the attendance to the purchases. It was our best showing of all the BAIA Fine Art Show series, so hats off to Houston. Also,  please visit www.blackartinamerica.com for podcast interviews and panel discussion coverage from the show. Lastly, sign up as a BAIA member. It's free and membership has its privileges!