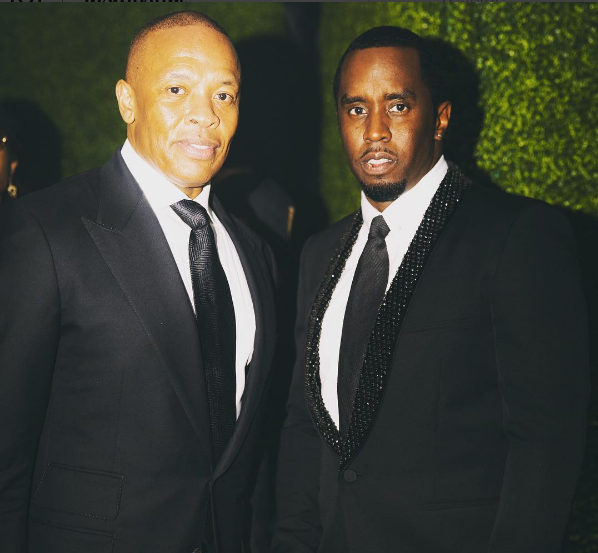 You think the man pictured above with Dr. Dre is named Sean "Diddy" Combs, right? Sike! Not anymore.
The rapper and business mogul has changed his moniker to 'Brotherly Love' to celebrate turning 48 years old on Nov. 4. Yes, he is now Sean "Brotherly Love" Combs. And he told his fans that they can simply call him "Love"' for short. 
The problem with the name is that folks believe Diddy is a gimmick thief who stole the moniker from a famous wrestler who already used the name successfully.
Diddy, however, seems undeterred and is moving forward with the name change. 
"I decided to change my name again!' he told fans via Twitter.
"'My new name is LOVE aka Brother Love.' He tagged his excited post: "Takedat."
He also warned the public that he will no longer answer to "Diddy," "P. Diddy" nor "Puff Daddy."
Born in 1969, for his first three decades he made do with the name Sean John Combs. But in 1997, Combs was searching for an alias or alter ego that would match the force he was becoming. He soon came up with a name to match his fame — "Puff Daddy" or "Puffy."
Then in 2001 "Puff" became "P. Diddy." However, in 2005 he ditched the P for the simple moniker "Diddy." Now the artist formerly known as "Diddy" wants to be called "Brother Love."
In a social media video, Combs explains the death of his other monikers and the birth of his new nickname:
"I know it's risky 'cause it could come off as corny to some people, like yo. I decided to change my name again. I'm just …I'm just not who I am before. I'm something different. So my new name is Love. Aka Brother Love. I will not be answering to Puffy, Diddy, Puff Daddy or any of my other monikers. But Love or Brother Love. OK?"
While Diddy  received a modicum of support from fans, his announcement was mostly met by rolling of the eyes, sighs and particularly charges of gimmick infringement and stealing since a famous wrestler was also called "Brother Love."
Ikr! Changing your name on a whim gotta be amazing

— Your Madam. (@kakaa__I) November 6, 2017
Yo. Find a new gimmick. I invented and perfected Brother Love. I am the original and you are not. Remember North Carolina.

— Bruce Prichard (@bruceprichard) November 4, 2017
You mean like the wrestling manager? That's gimmick infringement. @HeyHeyItsConrad @bruceprichard @PrichardShow pic.twitter.com/3ykU0s5rRu

— CoCo & Stu (@CoCoandStu) November 4, 2017
— Merc with the Mouth (@MouthMerc) November 6, 2017
— #LoveToKnow (@PrichardShow) November 5, 2017
I think there was ALSO an Indy Wrestler from Mississippi in the Late 90s-Early 2000s named Brother Love

— Frank Bonini (@FrankBoniniNJ) November 6, 2017
@diddy be prepared to pay @bruceprichard for some infringements 😂😂 There is only one #BrotherLove and he isn't a musician.

— The Rock W16 (@Wall82Jonathan) November 5, 2017
— BihCoin🎄 (@SpecialistDK) November 6, 2017
— @DuRagModel (@highclasscoon) November 5, 2017
So … what do you think of Combs' new nickname? Check out the video below: