Shaquille Butler, celebrity hairstylist, business owner and image consultant, sat down to share some insider secrets about what's making celebrities and stylists order his weave and hair products.
Through the power of social media, Butler was able to turn his passion into profit and build the Sensations By Shaq brand. Four years later, with a lot of hard work, networking, fashion shows, styling and mingling mixed with a fierce work ethic, SBS is thriving.
How many bundles would you reccommend for the perfect full head weave?
It takes three bundles to do an average sew in, depending on the length of the hair; 12-22 inches, I would say no more than three.
How do you suggest maintaining your current hairstyle?
To extend the life of the wand curls, it's recommended to use flexi rods at night. You would want to curl them in the same direction of the curls. This hair is called Ocean Wave and these curls should last about 3-4 days provided I put some mousse all over the hair first, saturate it before you put the flexi rods. Then in the morning you will have much bounce and you can even tease it out a little, if you choose.
Tell us about your edge control product.
Sensational Edge Control is one completed part of my new product line that's coming out. It has biotin in it to strengthen your edges. The difference is there will never be any flaky residue. You can use everyday, all day without having to wash your hair because of residue build up.
What type of shampoo would you recommend for this type of high quality hair?
I would definitely recommend a moisturizing conditioner and shampoo. You always want to put moisture into the hair. Even your natural hair.
Any particular brand?
Dove products are actually really great. They have an excellent moisturizing line you can pick up at your local Walmart or Target.
What was the inspiration behind your look?
I was inspired by another stylist so I decided to try it on myself. I shaved my sides. I already had the beard so I just added the hair. I kind of had this color before. I rocked it all at the Bonner Bros hair show. I got a lot of stares and received so many compliments.
So you started selling hair and then you became a stylist?
Yes. I was selling hair before I was doing hair. I started selling hair on the side while I was working part time for Enterprise, with a company called Mayvenn. They were looking for stylists to push their hair product line and they found me on social media. Next thing you know, I became one of their top sales people. From there, a manufacturer from overseas contacted me and that's how I was able to start the SBS brand hair line, which I own. Soon afterwards, I quit my job and decided to sell hair full time. I was always trying different dyes in my own hair, which peaked my curiosity to just become a stylist. I became really good at hair weaving, and sew ins, so I jumped all in and now I'm doing it all.
Which would you say is your main focus?
At this point in my career, I'm focusing on selling the hair, of course, and taking good care of your hair. That's why I started developing my new product line that will be beneficial for weaves and for natural hair. Maintenance is an important part of both. I also make a lot of wigs. I do a lot of silk press on natural hair. My product line is going to have the shampoo, conditioner, detangler, the hair serum, the spray and a heat protector. You will be able to use that on your natural hair and your weaves.
Your business has been booming on social media. How were you able to put yourself out there and build your client base?
I did a lot of fashion shows here in Atlanta. Fire on the Runway was a great fashion show I styled hair for. I worked with the designer Van Miller International a lot. Connecting with a lot of other stylists and salons and my Youtube page keeps me out there.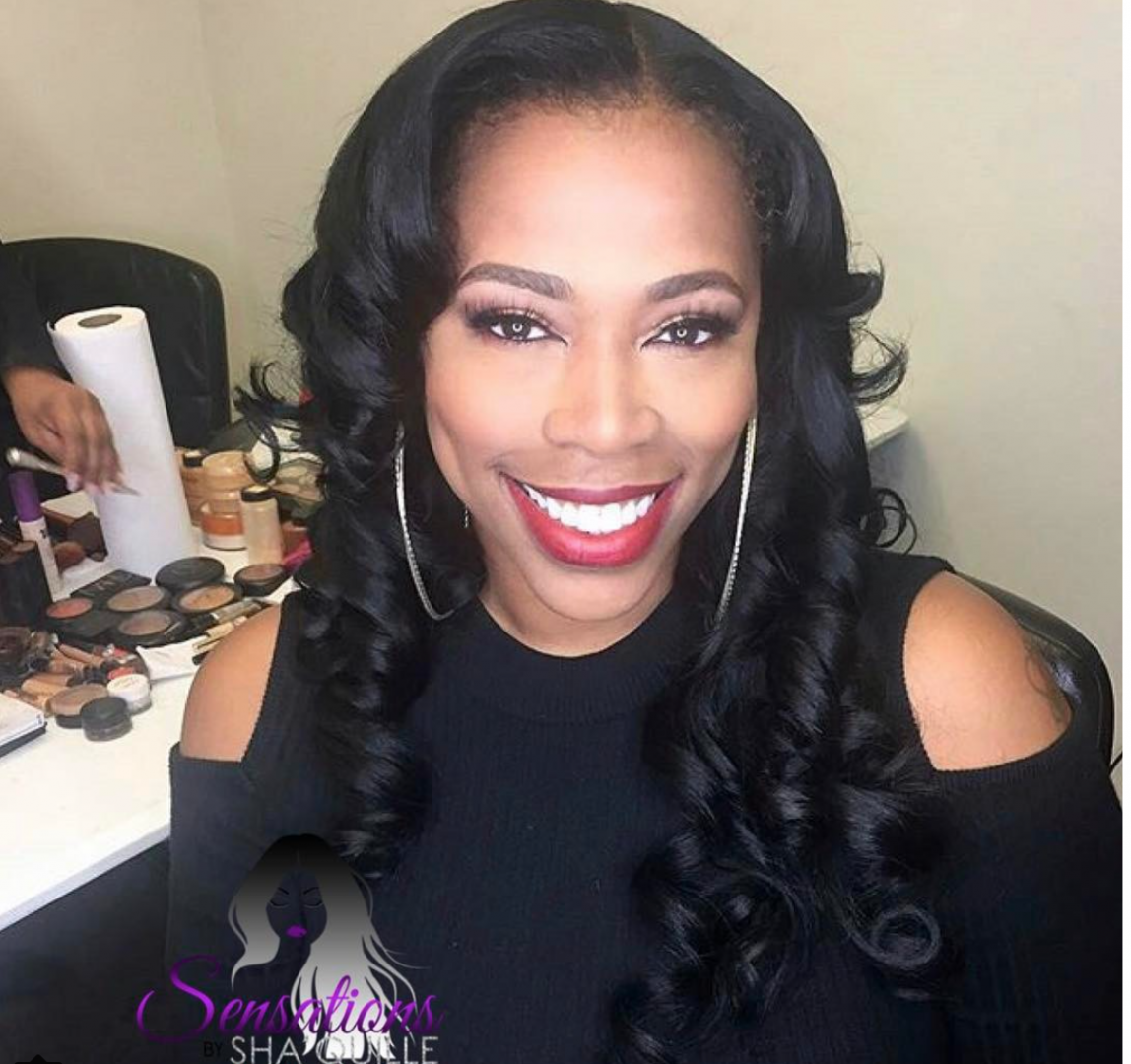 If you want to learn about more amazing hair maintenance tips and see Sensations by Shaq's work, you can connect with @sbsthebrand on IG or check out his Youtube page for more hair tips and upcoming products. See images below.
Check out the video after the jump.