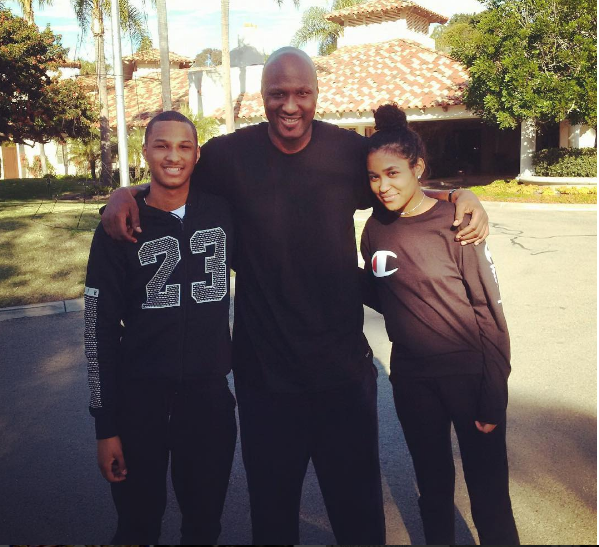 Former NBA All Star Lamar Odom has unfortunately fallen off the wagon again by making a drunken spectacle of himself in a Hollywood club early Sunday.
Odom, 38, the former husband of Khloe Kardashian, reportedly got inebriated while partying with friends at the popular Bootsy Bellows nightclub.
Gossip king TMZ posted a video of the former Los Angeles Lakers forward falling down drunk in the VIP area. At 6'8″, that's a long way down. Club security reportedly rushed to gather him off the floor.
Odom's spokesperson issued a statement to "E! News" saying, "Lamar is doing well."
The spokesperson blamed Odom's fainting spell on the typical Hollywood affliction "dehydration."
The spokesperson continued, "He was dehydrated and had been in an intense workout earlier in the day. It was also very hot in the club."
A nightclub source tells "E! News", "Security said he just slipped and fell as people were leaving the nightclub."
Here's the problem with that explanation: Odom was spotted a day earlier making a trip on foot to the liquor store near his house, just hours before his nightclub collapse in Hollywood. A person close to the situation claimed Odom was drinking for hours before he suddenly fell unconscious. It looks like Odom has a cadre of flunkies and enablers orbiting his world who are not operating in his best interest.
Odom, who has battled drug and alcohol addiction and nearly died of a drug overdose at a legal brothel in Nevada in 2015, has been to rehab and counseling. A source claimed Odom is free from drug's death grip and that he enjoys booze as the next guy does.
The same source told Radar, "Everyone is glad he kicked his cocaine and crack habits." And while it is annoying to see Odom drink and smoke weed, they tolerate his less lethal enjoyments.
Fans of the Kardashian clan recall how Odom's penchant for pill-popping, partying, snorting and extramarital affairs caused the implosion of his marriage to Khloe Kardashian.