Lupita Nyong'o blasts magazine for photoshopping her hair to look straight
I've written before that White privilege takes on many insidious forms. One way is the advanced assumption that they can alter the appearance of Black people's appearances to appease their audience and to be more in accordance with their sensibilities.
Academy Award-winning actress Lupita Nyong'o (12 Years a Slave) is outraged, and rightfully so, after the European magazine Grazia UK, apparently altered the appearance of her hair to omit the natural kinkiness of it. The woman's beauty is why they invited her to be on the cover in the first place; yet they were so repulsed by her coiled, curly hair that they arbitrarily tried to erase the irregular contours of it. 
While Nyong'o was grateful for landing the cover, she says they edited her kinky hair to make it appear straight. Underneath the above photo, Nyongo vented her feelings about feeling violated and deceived by the magazine.
Since Nyong'o's statement is cut off above in her Instagram post, here is the portion that is not visible: 
 Had I been consulted, I would have explained that I cannot support or condone the omission of what is my native heritage with the intention that they appreciate that there is still a very long way to go to combat the unconscious prejudice against black women's complexion, hair style and texture. #dtmh
Embarrassed for being put on blast worldwide, the magazine has offered their mea culpa to Nyong'o via a statement: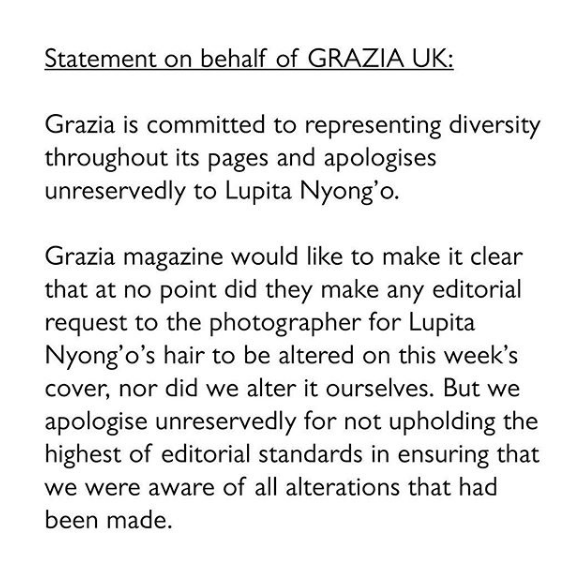 What do you think? Is Nyong'o right for putting the magazine on blast for altering her hair? And do you accept the magazine's apology?