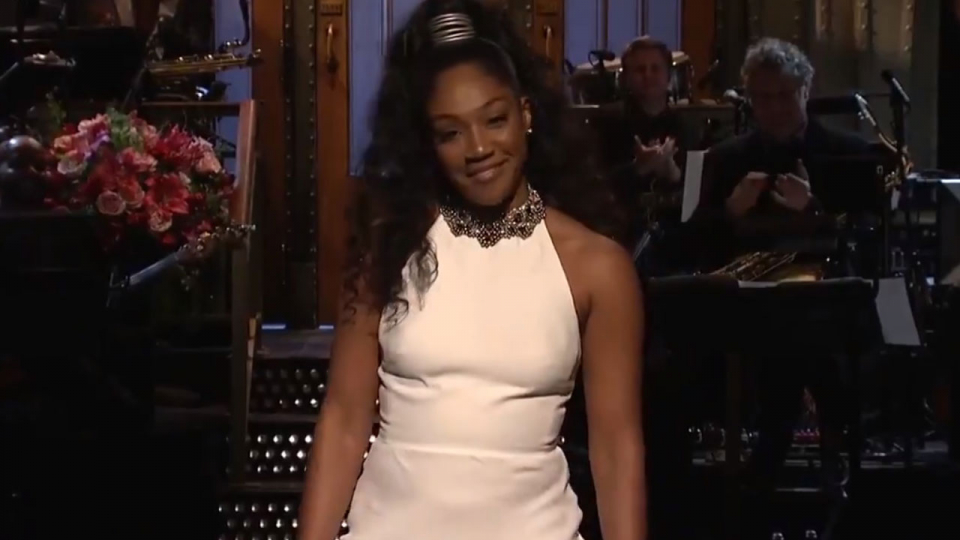 Tiffany Haddish made history by becoming the first Black female stand-up comedian to host "Saturday Night Live." Haddish opened with an hilarious monologue, but the lack of great comedy writing created a lackluster show.
Haddish proved to be a great stand-up comedian by delivering her monologue with ease and perfect timing. She spoke about her new fame following Girls Trip and the false reports of her net worth. "I Googled myself, it said I'm worth $2 million. What do I need to do to get this money? Fake my own death? Tupac this s— and move to Tyler Perry Island," she joked.
Haddish also took a slight shot at "SNL" and their lack of influence in the Black community by pointing out that "In Living Color" was embraced by minorities more than "SNL."  "Trying to convince them [kids] that Dana Carvey was just as funny as Damon Wayans was a problem. I got stabbed twice, in a bunk bed," Haddish said about watching comedy sketches during her youth.
She also spoke about sexual harassment allegations that are sweeping through Hollywood by saying, "If you got your thing-thing out and she got all her clothes on, you're wrong!"
Haddish also took a shot at herself for being a comedian on the rise. She spoke about Kevin Hart being impressed that she visited China, Thailand, Japan, Florida, San Francisco, and Los Angeles in the same day. But she broke the news to Hart and joked that she was wearing the same outfit during different occasions.
Haddish finished her opening monologue by saying that she would wear her $4,000 Alexander McQueen dress several times during the telecast and that she would also wear it to church, ending with an hilarious praise dance as the "SNL" band played a gospel song.
After the monologue, the show pretty much went downhill as the "SNL" writers failed to utilize Haddish effectively. Overall, the skits proved that a lack of diversity may also exist in the "SNL" writer's room.
In 835 episodes, only 50 Black people have served as host on "SNL." Out of the 50 Black hosts, only 12 were women.  Most of the women who have hosted the show were actresses or musicians. The list includes Cicely Tyson, Oprah, Janet Jackson, Queen Latifah, Halle Berry, Kerry Washington, Taraji P. Henson, Maya Rudolph, Gaboury Sidibe, and Octavia Spencer.
Chance the Rapper will host "SNL" next week. It will be the first time that two Black hosts appeared on back-to-back weeks.