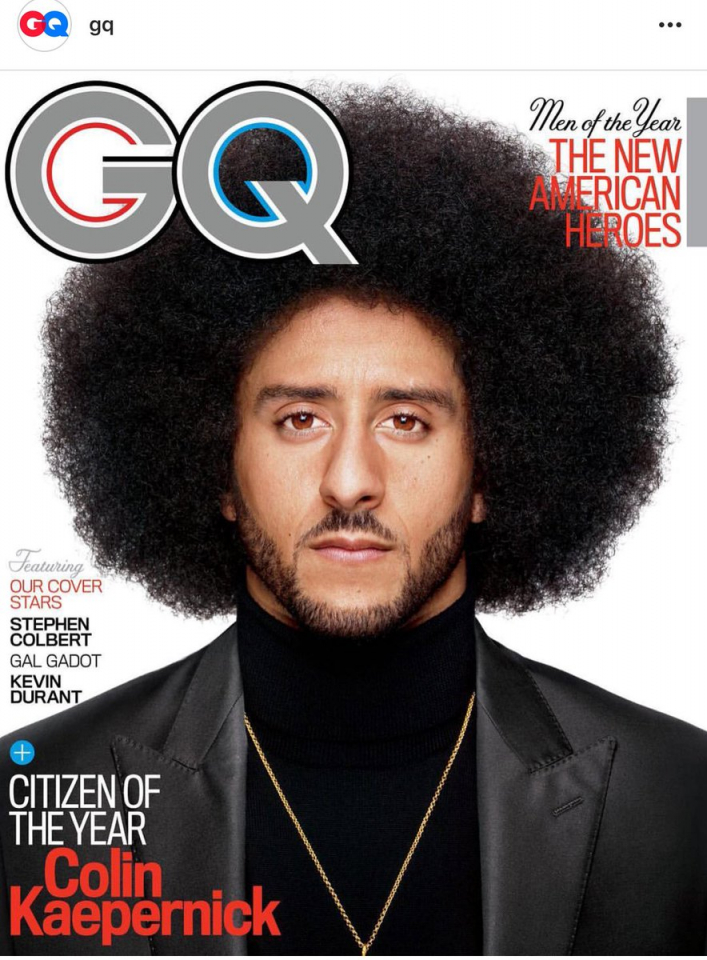 It is not far-fetched to place exiled NFL quarterback Colin Kaepernick among the pantheon of great athlete protesters. Most specifically, Kaepernick is a modern version of John Carlos and Tommie Smith, the men who punched a hole in the sky with their raised black gloves on the podium of the 1968 Mexico Olympics. They, like Kaepernick, used the national anthem to protest flagrant injustices in American society and, like the man known as Kaep, made great personal sacrifices — and their livelihoods — as a result of their defiance.
Because of Kaep's unapologetic stance of kneeling during the playing of the "Star-Spangled Banner," which illuminates police brutality and inequities within our broken judicial system, GQ has just named Kaepernick as its "Citizen of the Year."
A lot has changed in the four years since Kaepernick, then a strapping sex symbol to go along with being a dynamic dual quarterback threat, was on the cover of GQ. He captured the American imagination en route to coming within one play of winning the Super Bowl.
But his act of taking a knee (and sitting before that) during the national anthem was like a clap of thunder that may have cost him his career in the NFL. But it also transformed Kaepernick into a symbol of the next generation of activism and resistance.
In a special December issue of the magazine, Kaepernick paired with GQ as well as ten of his closest allies and friends to "reclaim the narrative of his protest" which is injustice in America. 
In the issue, the magazine called Kaepernick "the man who became the movement" and referenced the fact that, four years ago, the photogenic Kaepernick had been on the cover as one of the rising stars in American football:
"In 2013, Colin Kaepernick was on the cover of this magazine because he was one of the best football players in the world. In 2017, Colin Kaepernick is on GQ's cover once again — but this time it is because he isn't playing football. And it's not because he's hurt, or because he's broken any rules, or because he's not good enough," GQ wrote in the piece.
The piece also noted: "He is still, to this day, one of the most gifted quarterbacks on earth. And yet he has been locked out of the game he loves — blackballed — because of one simple gesture: he knelt during the playing of our national anthem. And he did it for a clear reason, one that has been lost in the yearlong storm that followed. he did it to protest the systemic oppression and, more specifically, as he said repeatedly at the time, police brutality toward black people." 
If anything, Kaepernick has been frustratingly quiet, vowing to remain silent on his behalf. Instead, the piece features ten people affiliated with him who spoke about what the protest means to them and what we can do, as a nation, to keep fighting injustice.