Jordin Sparks married and … what?

Singer and "American Idol" alum Jordin Sparks shocked popular culture when she announced that she is already married.
The devout Christian songstress who's married to aspiring model Dana Isaiah is telling the world that she not only eloped secretly several months ago, but she's pregnant with her first child. She broke the news in an exclusive to People magazine.
According to Sparks she cried "shock tears" when she found out she was expecting and she and Isaiah tied the knot in mid-July after meeting Super Bowl weekend in February 2017.
"We're both really excited," says Sparks about finally telling the world their good news. "He's been like, 'I want to shout it from the mountain tops!' We're really proud to be married to each other and to be celebrating this."
Sparks tells People they fell in love quickly and talked every day for months. In fact, within days of meeting each other, Sparks says she knew Isaiah was "the one." Soon, he flew out to L.A. on Easter weekend so they could officially begin the courtship. 
"A couple days after we had actually met, I was like in my head 'That's going to be my husband! That's my husband right there,'" says Sparks, who discussed early on with Isaiah about not moving in together until they were husband and wife. "When I'm with him, I feel comfort and safety and calm and peace, and those aren't things that I normally felt. So it was a little wake-up call for me."
The couple eloped July 16 while on vacation in Hawaii with a small group of friends, and in late August, Sparks made the discovery she was expecting.
"Once we got over the initial shock of it, now again just like it is with the marriage, to be able to share that this amazing thing is happening, it's such a great thing. We did this together!"
Sparks' and Isaiah's baby is due in mid-spring.
After enduring some ugly public breakups, Jordin finally got her well deserved happy ending. Congrats to her. 
The above photo was captioned this way: par·a·dise /ˈperəˌdīs/ noun • an ideal or idyllic place or state. • bliss, heaven, ecstasy, delight, joy, happiness, nirvana, heaven on earth.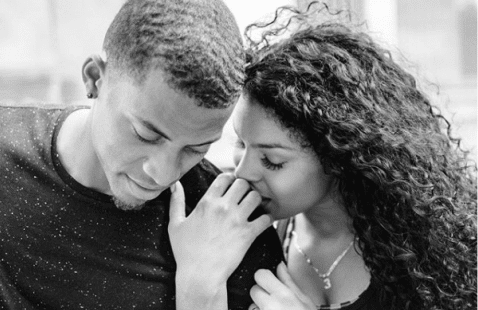 While this photo was captioned with a poetic twist: 'I wanna love you in every kind of way. I wanna please you no matter how long it takes. If the world should end tomorrow, then we only have today. I'm gonna love you in every kind of way.' ? ••• If you get the chance, go see @hermusicofficiallive. She's beyond!! ✨✨✨ Check out a few more photos of the couple by flipping the page.