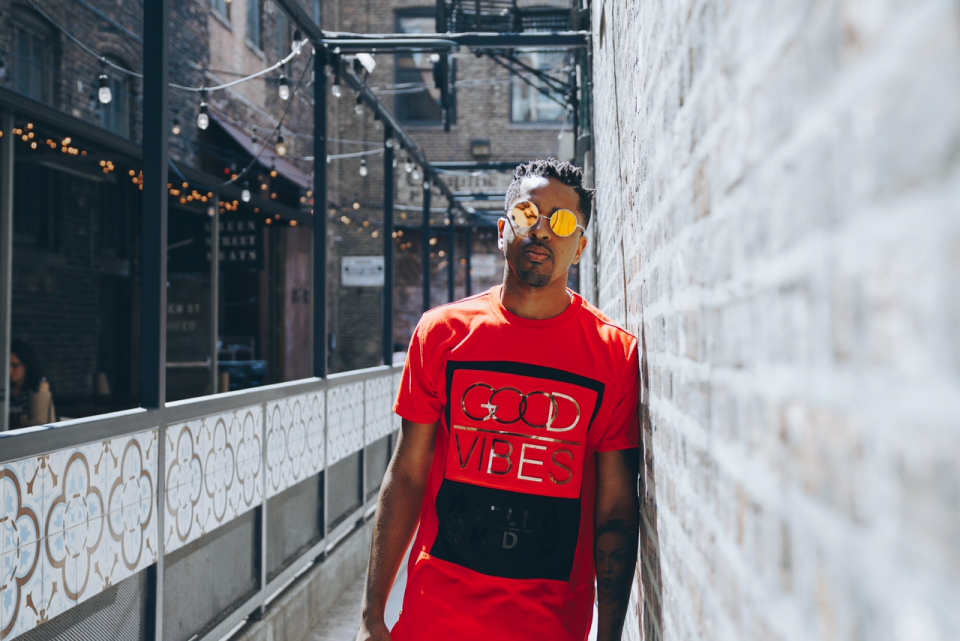 Matt B is an R&B artist from Chicago. Most people haven't even heard of the highly accomplished artist. He was signed to a Japanese label and has achieved a few No. 1 songs in that market. He is currently working his way into the U.S. market by way of his recent signing to Priority Records. We spoke with him about his unique journey and what he wants his music to accomplish.
It's interesting that you signed to a Japanese label originally. Talk about how that happened.
This is one of those anti-climactic stories. I had been writing and recording songs for a while and just started uploading them to YouTube. I uploaded over 20 tracks and they sat on YouTube for over a year. Then a record label named StarBase Records randomly contacted my manager at the time and said, "Hey, we want to sign Matt B to our label. We heard his music on YouTube and think that these 14 tracks would be perfect for his first album." And the rest, as they say, is history.
Talk about your experience in Japan, what would you say is the biggest difference from the United States?
I really can't answer this question yet. Even though I'm working on dropping my third album, I haven't been to Japan yet. I know that's crazy to think about; but in this digital age, it just goes to show that you can never physically go to a place, never meet anyone in person, and still be successful. My first tour out there is going to be sometime in 2018, which will be coupled with the release of my third album. Needless to say, I'm excited!
What inspired you to become a singer?
As a kid, I sang all the time with my brothers and my family. My grandmother was a part of a singing group in the 30's, my cousin was an opera singer, and the list goes on and on. Singing just runs in the blood, so that's what got me started. But at this point in my career, it's not just for the love of music. It's also to take care of my family and to help my people (black people) who struggle so much around the world. Giving back is very important to me.
If you could model your career after anyone who would it be and why?
Off the top of my head, I would say Bruno Mars. He does clean, feel-good, timeless music, and I really like that you never really hear about him doing some bulls— in the media. He keeps his nose clean, so to speak. And from what I've seen, he does good business. If I could add one more person it would be Jay-Z. He's taken over the music game and is a good example of how a black man can and should make money.
How has your transition been since you signed to Priority?
I'm not even gonna lie, it's been rocky. Label politics here in America is a different type of ballgame. But I've learned a lot on the business side, which I'm grateful for. On the music side, it couldn't be better. Getting picked up by a major helps out a lot with how other people in the industry perceive you, and my clout has gone up by 100,000. So it makes it easier to get into spaces and places that usually would be off limits.
Who are your top five R&B singers and why?
I'm going to start by saying myself, and I don't care what people think about that statement.Then I would say, Usher, because his vocal calisthenics is insane. Plus, he's had a long career of hits, and he's still going strong.Michael Jackson, he basically changed the landscape of the industry. His impact has affected all genres of music for the last 40 years.I gotta go super old school now and say, Ray Charles. That guy was amazing. He took that gospel sound at the time and transformed it into what we now call R&B. How could you not respect that!
I know this might be cheating, but I'm gonna go with Boyz II Men for my last one. Those guys have some of the craziest vocals I've heard. Some of the runs they do are extremely difficult to copy. Even when you think you got it right you eventually realize you're missing some notes. And believe me when I say I can do pretty much anything someone throws at me, but Boyz II Men are on a whole other level of vocals.
What is next for you?
I guess I can't say much, I don't like to talk about stuff that's down the pipeline because everything in this industry changes so fast. But I will speak on things that have already happened or are in the bag. I'm dropping my third Japan album in 2018. I'm going on tour to help promote the album and finally meet some fans out there. I also just recently began working on a big project with nine-time Grammy Award-winning producer Bryan-Michael Cox. Can't say much else about that, but be on the lookout for that in the States. 
What words of encouragement do you have for those following their dreams?
I would say that you can try your best, and that's fine. But sometimes your best isn't good enough and you just gotta try harder. If you doubt yourself, then everyone else around you will doubt you too. 
Social media
Website: www.mattbworld.com
Facebook: www.facebook.com/mattbworld
Instagram: @mattbworld
Twitter: @mattbworld