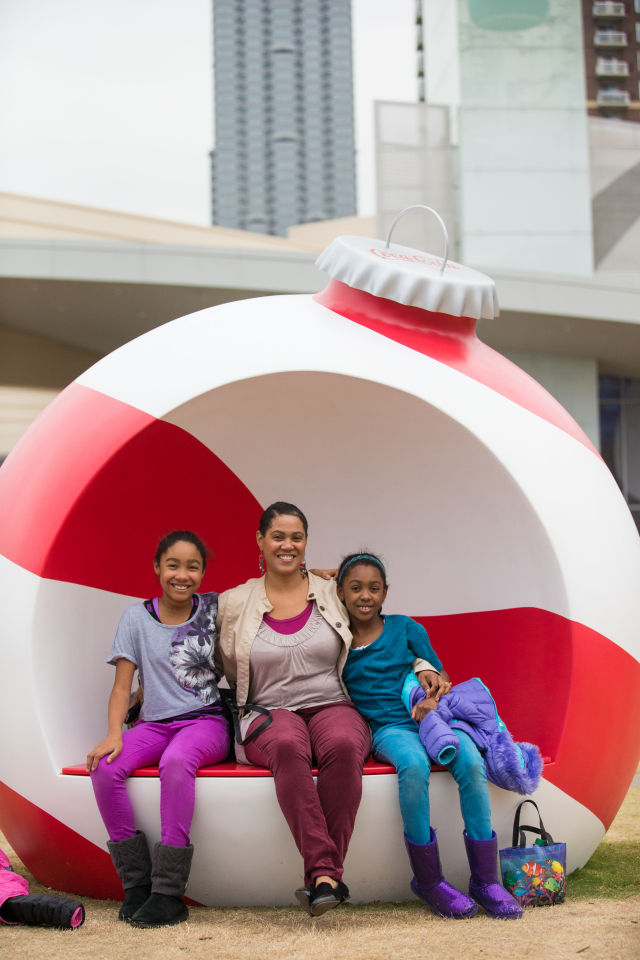 Holiday cheer is bubbling over at World of Coca-Cola, where decked out displays and signature seasonal beverages create a festive experience for local residents and out-of-town guests in Atlanta. From one-of-a-kind VIP tours to photo moments with the ever-popular Coca-Cola Polar Bear, World of Coca-Cola's holiday celebration is one fans will not want to miss.
"Around the world, across cultures and decades, Coca-Cola has played a role in creating special holiday memories," says general manager of Retail and Attractions for World of Coca-Cola Russell Jacobs, in a statement to press. "At World of Coca-Cola, we're telling those stories — and creating new ones as guests visit us and experience fun and memorable moments together throughout the holidays."
Here's what's in store.
All Decked Out
Located directly outside the attraction entrance, giant holiday ornaments dot the Pemberton Place lawn, welcoming guests with the perfect photo opportunity. Step inside from the frosty air and feel the warmth of the season with greetings of "Happy Holidays" in languages from around the world. Larger-than-life red-and-white Coca-Cola contour bottles and bright ornament trees make the season bright and merry.
Taste the Season
In addition to the 100+ beverages offered year-round at World of Coca-Cola, guests can savor seasonal flavors during the holidays. Available for a limited time only, Coca-Cola North Pole Magic, Coca-Cola Zero Sugar Arctic Chill and Chocolate-Covered Cherry Coke are sure to get guests' taste buds in the holiday spirit.
Polar Bear Pics and Santa Selfies
The Coca-Cola Polar Bear will be available for photos and warm bear hugs throughout the season. Guests can also climb onboard Santa's sleigh, which, set against a sparkling holiday scene, provides the perfect picture for a holiday card or Instagram post. Photos can be shared using #WorldofCocaCola for a chance to be featured on the attraction's website or social media channels.
VIP for the Holidays
For $32 per person, up to ten guests can enjoy a VIP Guided Tour, and discover little-known facts about Coca-Cola's rich history and its imprint on popular culture, as shared by a dedicated guide. Each participant will receive a headset so they won't miss anything during their tour, and can take home their choice of a keepsake lanyard or commemorative pin. To view availability and book a VIP Guided Tour, visitors can head to www.worldofcoca-cola.com/purchase-tickets/vip-guided-tours/.
Exhibits for Everyone
Coca-Cola's connection to the holidays is brought to life through special exhibits around the attraction. "A Coca-Cola Christmas Celebration" takes guests on an international journey as they view seasonal advertisements and items from around the world. Adjacent to the 4-D Theater, "History of the Coca-Cola Santa" sheds light on how Coca-Cola shaped the iconic image of St. Nick himself. The gallery is complete with portraits of Santa Claus throughout the ages, including images of the iconic 1930s illustrations by Haddon Sundblom.
Gifts of Cheer Throughout the Year
Looking for those special gifts that will make them smile this season? While supplies last, check out Coca-Cola's newest apparel collection featuring a one-of-a-kind, light-up sweatshirt and fashion tees as well as classic favorites such as Coca-Cola bottle banks, holiday ornaments, cozy loungewear and stocking stuffers galore. For a limited time, take home a 2017 Coca-Cola Polar Bear Happy Holidays T-shirt for $5.95 with your purchase of $35 or more.
For a gift that keeps on giving, a World of Coca-Cola Annual Pass may be just the ticket. Available for $34, the Annual Pass provides unlimited access to the attraction, expedited entry and multiple discounts including $4 off General Admission tickets for up to four of your guests each time you visit. Guests can purchase Annual Passes online at http://www.worldofcoca-cola.com/purchase-tickets/annual-pass/ or during their visit to the attraction.