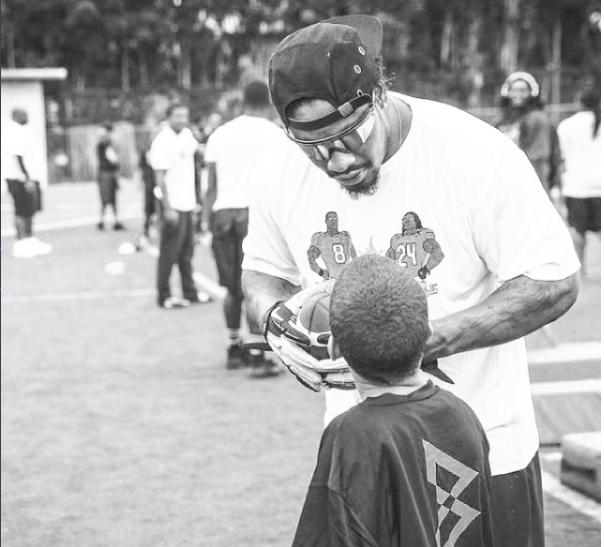 Donald Trump wants the NFL to cage up "Beast Mode" by hammering the Oakland Raiders running back with a suspension for the remainder of the season for sitting during the national anthem in a foreign country.
Trump tweeted Monday morning his request for the pro football league to banish Marshawn Lynch (who earned his nickname "Beast Mode" during his playing days with the Seattle Seahawks) from the game after the Raiders running back had the intestinal fortitude to sit during the playing of "The Star-Spangled Banner" at Sunday's game against the Patriots in Mexico
What infuriated Trump even more was the fact that Lynch sat during the national anthem, but then stood up for the playing of the Mexican national anthem.
"Marshawn Lynch of the NFL's Oakland Raiders stands for the Mexican Anthem and sits down to boos for our National Anthem. Great disrespect!" Trump tweeted. "Next time NFL should suspend him for remainder of season. Attendance and ratings way down."
To try explain to Trump that ratings are down across the board in all sports — as well as sports news stations like ESPN and Fox Sports — in part because technology enables consumers to watch games live from their cellphones — is an exercise in futility. Trump is not as interested in facts as he is in scoring cheap political points with his radical right base and distracting attention from his administrations' many failures, including not being able to obliterate Obamacare and his inability to solve the North Korean crisis. 
As the New York Times reported on TV ratings in general: "For the past decade, ratings across television have fallen because of expanding cable packages, competition from streaming services and DVRs, and the ubiquity of smartphones."
The Orange County (California) Register substantiates this point by adding this explanation for decreased sports viewership: "Sports media experts have suggested several reasons for the challenged popularity. These range from newly energized viewership of political broadcasts (perhaps the ultimate "sport" these days); to an over-saturated market for sports content; to new media technologies. And don't forget the growing cord-cutting generation — and not all of them are cash-poor young adults — that is quitting cable TV and traditional broadcast media for content on their mobile devices." 
Trump's criticism of the player protests against racial injustice and police brutality is one of his favorites — and most successful — topics, which is why he keeps returning to it. In September, he reignited the Colin Kaepernick-sparked demonstrations by calling on NFL owners to fire any "son of a b—-" who takes a knee during the anthem.
Lynch joined the hundreds of players who rebelled against Trump's diatribe by protesting, but the Raiders back went a step further when he sported an "Everybody vs. Trump" T-shirt before Oakland's game against the Broncos earlier this year.
Trump's criticism of Lynch followed the president's rabid rant against basketball dad LaVar Ball on Sunday for being "unaccepting" of Trump's role in facilitating Ball's son LiAngelo's return from China after his arrest for shoplifting. Lavar Ball is the father of Los Angeles Lakers rookie guard Lonzo Ball. 
While Trump continues to suck up all the credit for securing the release of LiAngelo Ball and two fellow UCLA freshmen out of international trouble, he wants Lynch to pay a hefty price for his protest in Mexico.