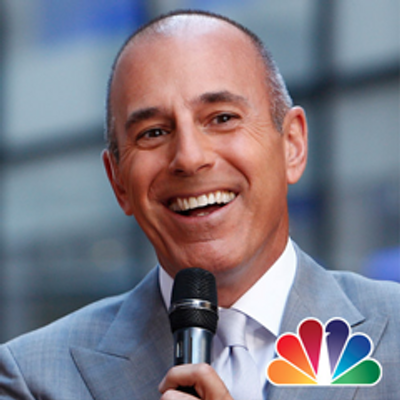 Just minutes after "Today's" Savannah Guthrie announced that NBC fired her co-host Matt Lauer over a sexual misconduct allegation, Donald Trump dashed to his Twitter account to kick Lauer while he's on the ground. And the president, behaving like a teenager on Halloween, is ravenous to see more blood splatter along the corridors of NBC: 
Wow, Matt Lauer was just fired from NBC for "inappropriate sexual behavior in the workplace." But when will the top executives at NBC & Comcast be fired for putting out so much Fake News. Check out Andy Lack's past!

— Donald J. Trump (@realDonaldTrump) November 29, 2017
Trump made NBC News one of his prime targets for criticism of how they covered his campaign and administration. In October, he called for the network's broadcast licenses to be challenged. His mention of Lack — the chairman of NBC News and MSNBC — indicates the president has heard about more allegations.
Later, Trump tweeted about other NBC News figures, including Phil Griffin, the president of MSNBC, and "Morning Joe" host Joe Scarborough:
So now that Matt Lauer is gone when will the Fake News practitioners at NBC be terminating the contract of Phil Griffin? And will they terminate low ratings Joe Scarborough based on the "unsolved mystery" that took place in Florida years ago? Investigate!

— Donald J. Trump (@realDonaldTrump) November 29, 2017
Trump, for his part, has been accused of sexual harassment by dozens of women during his dubious career. During the presidential campaign, many women accused him of inappropriate behavior, which he has always denied.
The release of the "Access Hollywood" tape, in which Trump bragged about grabbing women by their sexual parts, was almost an insurmountable obstacle during the campaign in 2016. Now a number of news outlets, including the New York Times and Washington Post, have reported that the president has since questioned the authenticity of the recording.
Initially, Trump dismissed his conversation with Billy Bush as boys being boys and mere "locker room talk," but also apologized for the 2005 conversation. This week, "Access Hollywood" issued a statement in which it said that the tape is "very real."
In related news, RadarOnline is reporting that Lauer has fled from his ultra-luxury apartment in Manhattan after his termination from NBC. 
"Here's not here," a woman identifying herself as the family housekeeper said to Radar.
His co-workers are devastated. 
"We are heartbroken," said Guthrie, 45. "I'm heartbroken for Matt as my dear, dear friend and my partner, and he has been loved by many, many people here. And I'm heartbroken for the brave colleague who came forward to tell her story, and any other women who have their own stories to tell."