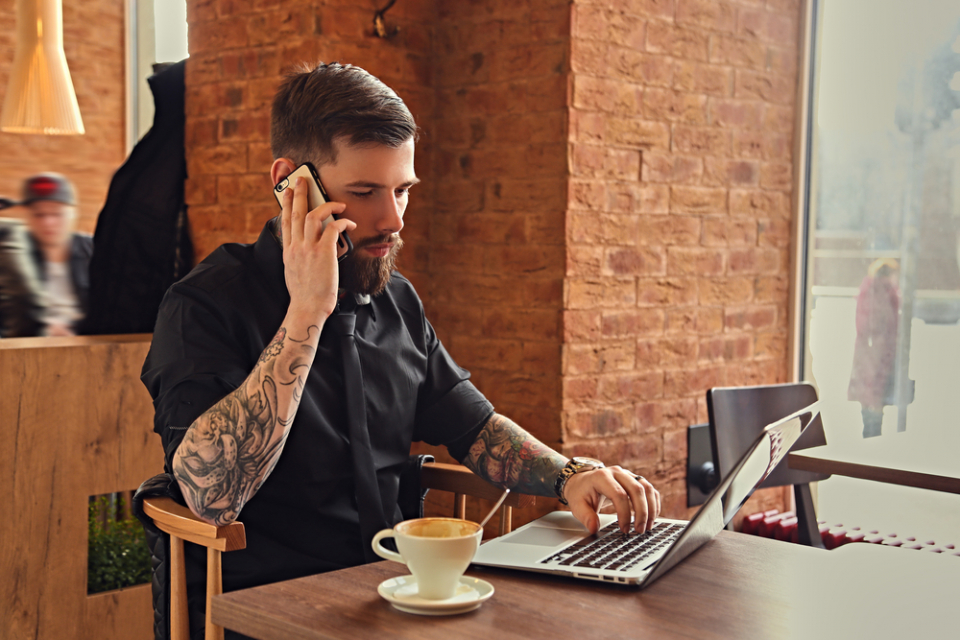 A Colorado coffeehouse chain has folks fuming after it had the sheer audacity (or stupidity) to post a sidewalk sign where they poked fun at forcing minorities out of the neighborhood.
The chain, ink! displayed the sign, saying "Happily Gentrifying The Neighborhood Since 2014." On the back, the sign said: "Nothing Says Gentrification Like Being Able To Order A Cortado."
Few people would have protested if the sign and coffee shop were not located in a neighborhood filled with artists of color, particularly African Americans.
According to The Guardian, ink! has 15 locations in Denver, but the store in question is located in the Five Points neighborhood, an area traditionally known as a home for artists that has been steadily becoming more White and middle-to-upper-class as a result of gentrification.
As you might imagine, folks got busy bashing the coffee shop for a horrible joke:
Hey @inkcoffee this isn't a joke. You're happy about displacing families of color in Denver? Gross. This is a bad business model and not being a good neighbor #gentrification #notajoke #inkcoffee #denver https://t.co/Nvj6wS8YgT

— Carl Charles (@oh_rarl) November 23, 2017
Denver, you should let these folks know what you think of their gleefully colonizing sign! 😊@inkcoffee
2851 Larimer Street
Denver, CO 80205
📞: 303-292-7327 pic.twitter.com/fq3KuDWRtA

— ashley yates (@brownblaze) November 23, 2017
Denver City Council President Albus Brooks joined the many protesters outside the coffee shop, according to the Denver Post. Mayor Michael Hancock, for his part, responded in an interview to complaints about his approach to affordable housing issues that have been sounded since the start of the controversy.
Ink! hasn't served a cup of coffee since a sandwich-board sign it placed on the sidewalk on Larimer Street went viral on social media Wednesday afternoon. The shop was to open on Monday after the long holiday weekend, but the protesters were so numerous that it remained closed.
"This is absolutely ridiculous. It's been incredibly divisive," Brooks told the Denver Post, adding that the bad joke has "exposed a deeper reality in our community."
After withstanding the severe blow-back from residents in the city and elsewhere, the people who run the shop tried to mop up the cultural spill.
"Hmmm. We clearly drank too much of our own product and lost sight of what makes our community great … We sincerely apologize for our street sign. Our (bad) joke was never meant to offend our vibrant and diverse community. We should know better. We hope you will forgive us."
The owner also posted this apology on the company's Instagram page: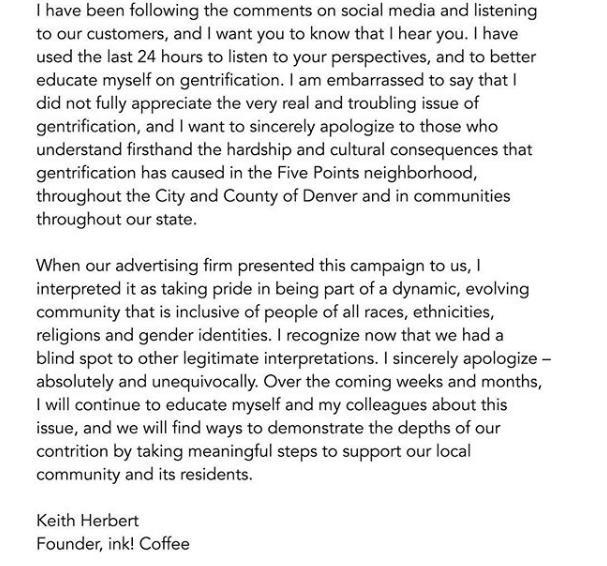 Not surprisingly, the apology did little to nothing to put out the flames raging through this community.
I grew up in Denver when Five Points was a neglected black neighborhood with a rich history as the "Harlem of the West." @InkCoffee was dead wrong, and an apology is the least they owed that community. Gentrification isn't an adorable marketing strategy. https://t.co/5t9Te8SJl7

— Joy Reid (@JoyAnnReid) November 24, 2017
.@inkcoffee fire your communications people immediately. WTF are you thinking? Is this for real? You might as well say "Forcing people of color out of their homes since 2014…and damn proud of it". This is ridiculous, insensitive, and racist." You need to go. #Denver #COpolitics pic.twitter.com/tZGs1tXRj8

— Manuel Lopez del Rio (@mlopezdelrio) November 22, 2017
yo @inkcoffee we are not cool with this sign on 29th and Larimer. Bad decision. Bad design. BAD. W.T.F. pic.twitter.com/81UkXfM9kh

— La Suprema Pistola (@theperfectRu) November 22, 2017
Denver, you should let these folks know what you think of their gleefully colonizing sign! 😊@inkcoffee
2851 Larimer Street
Denver, CO 80205
📞: 303-292-7327 pic.twitter.com/fq3KuDWRtA

— ashley yates (@brownblaze) November 23, 2017
Mayor receives apology letter from ink! Coffee; debate over gentrification continues https://t.co/sYvI4KGzai pic.twitter.com/Vd8SamTKbn

— FOX31 Denver KDVR (@KDVR) November 28, 2017