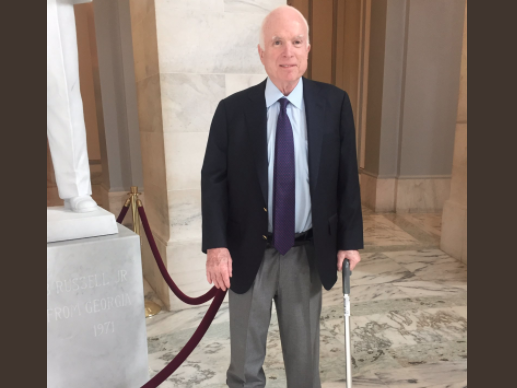 Senator John McCain is battling cancer, but he is willing to support a Republican tax bill that will defund cancer treatment for the poor. The tax bill in question is the ridiculous tax bill that will add $1.5 trillion to the country's deficit and give money to the rich while hurting the middle class and poor.
It was discovered by the Joint Committee on Taxation that everyone person or family making under $75k per year will see an increase in taxes. But beyond the tax increases for the poor and middle class, healthcare will also suffer. The tax bill take $25 billion from Medicare the moment the bill is signed. As a result, there will be significant cuts in chemotherapy drugs which are expensive. Cancer patients will be denied treatment and more people will die.
The inhumane bill should be reviewed by the United Nations because it can be considered a crime against humanity. McCain, who declined to repeal Obamacare this past summer, appears to be going against treatment for all while being helped by taxpayers who fund his healthcare.
In a delusional statement, McCain said, "After careful thought and consideration, I have decided to support the Senate tax reform bill. I believe this legislation, though far from perfect, would enhance American competitiveness, boost the economy, and provide long overdue tax relief for middle class families. For too long, hardworking people in Arizona and around the country have not seen a raise in their paychecks. This bill would directly benefit all Americans, allowing them to keep a higher percentage of what they earn. According to the non-partisan Joint Committee on Taxation, every income bracket would see tax relief under this bill."
You can call your U.S. Senator at 202-224-3121 to force them to vote against this evil tax bill.