Now that they are legally wed, NFL star Russell Wilson and wife, singer Ciara, are being very fruitful with each other. And neither is being very shy about proclaiming how they frequently treat each other like snacks.
Once again, the Seattle Seahawks quarterback twisted Twitter into a pretzel because of some sexual innuendos that he and his wife posted on social media during Wilson's 29th birthday celebration.
In one posting, Wilson was gushing over his wife as she did an impromptu modeling of his jersey and must have filled it out in all the right places.
Ciara trying on Russell's High School jersey.
"If I had known you in high school we would have had bout six of these kids"
"babe STOP" @ciara 😂😂😂 pic.twitter.com/3rP2Zue89x

— Team Ciara Daily (@TeamCiaraDaily) November 22, 2017
"If I had known you in high school we would have had 'bout six of these kids," said Wilson in a video posted on Twitter.
Now he's once again sprinkling in some sexy talk, this time in a video from his birthday celebration this past weekend.
The star signal-caller and Super Bowl champion was treated to a surprise boat ride and dinner by CiCi. When a waiter brought over some hot sauce, Russel's mouth started to water and indicated he needed to apply it … but not on his food.
"I'm about to use that later," said Wilson.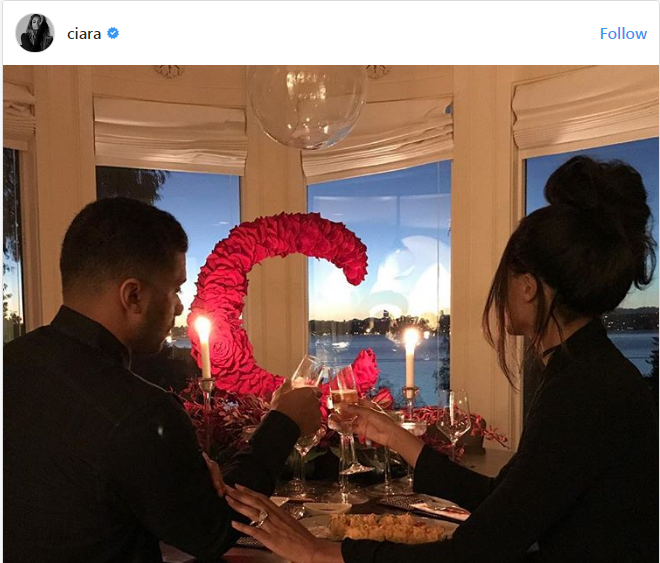 The special evening concluded with dinner and the sharing of spirits overlooking the lake. Not a bad way to spend your birthday.
"Hey babe you know what a full moon means?" 🌝🌚

"Love you Mrs.Wilson" "I love you Mr.Wilson" @ciara pic.twitter.com/ptIR39Db46

— Team Ciara Daily (@TeamCiaraDaily) December 2, 2017