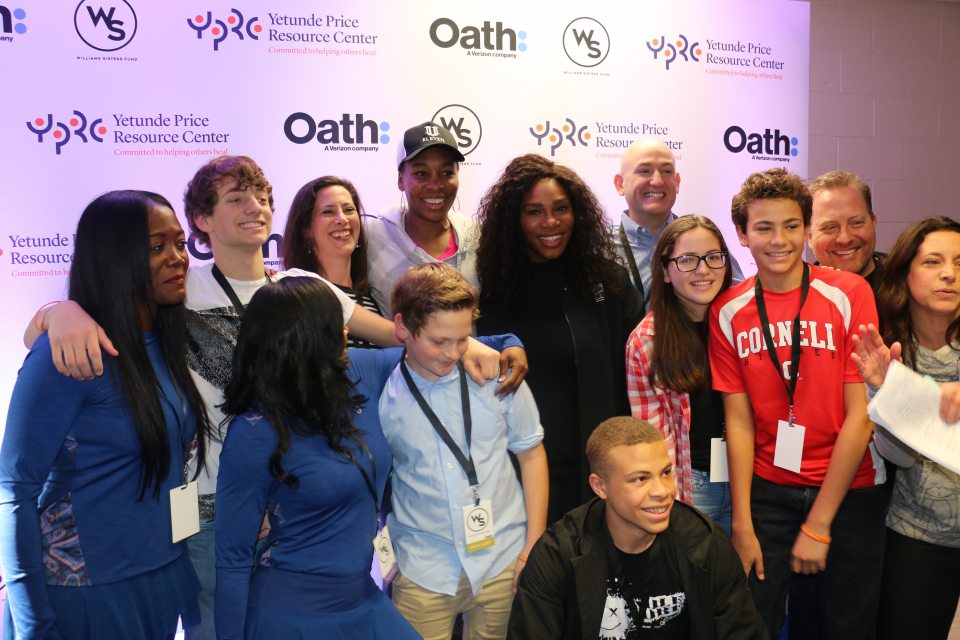 Presented by Oath, Serena and Venus Williams hosted their "A Family Affair" event at the Southeast Tennis and Learning Center (SETLC) in Washington, D.C. It was a day of tennis, fashion, empowerment and community discussion welcomed by Cora Masters Barry, founder of SETLC. In connection with the Williams Sister Fund, the tennis legends launched the Yetunde Price Resource Center based in Compton, California. The Williams sisters were there to bring awareness and share how violence has made an impact on their family and what they were doing to commit themselves to the cause while incorporating the day with their favorite sport.
Yetunde Price was the oldest sister of Serena and Venus Williams, who was a victim of a drive-by shooting that ended her life on Sept. 14, 2003, in Compton, California. She was only 31 and is survived by two sons and one daughter. Her daughter, Justus Bobbitt, is now a D.C. school teacher who volunteers daily at the SETLC in the evenings. The Yetunde Price Resource Center was created to help victims and their families who have been affected by community violence with community-based case management navigation, community education and expressive art therapy.
D.C. Mayor Muriel Bowser kicked off the program with enthusiasm, giving a warm D.C. welcome to the Williams sisters and their family and commended them for their efforts in improving the Black community.
Sports journalist and co-host of ESPN's SC6 on SportsCenter, Jemele Hill, emceed a panel discussion. Hill's first question to the panel ran emotions high when it came to Serena Williams' turn to speak about how senseless acts of violence affected her. Williams started off composed saying, "Well, violence has affected our lives personally — we lost our sister, she was the oldest — to violence. But I think what people don't realize is how violence really affects not only your family but your friends, your …" Before she could finish her sentence her voice started to crack, "neighbors, everyone." Serena paused as she started to tear up and ended her statement. "And it's … I'm going to stop there," she said, placing the mic on her chair.
Like any big sister would do when seeing a younger sibling struggle, Venus quickly stepped in, "Maybe I can help her continue. Umm … also violence not only affects the victims' family but, also the family of the perpetrator. It ruins their lives as well. If you're a mother or father, it's not your plan to have your child commit this. It ruins lives. I think one of the hardest days of all of our lives was having to tell our sister's children what happened to their mom. You can't prepare for that," she said, glancing at her family while Serena was being passed a box of tissues. The Williams family was sitting in the front row wiping their tears as they remembered the tragedy.
As the panel discussion continued, Venus recalled a jarring memory during practice with Serena in their younger years. "I remember one afternoon there was a drive-by and we hit the ground. A guy got off the sunroof and started shooting, and we went back to practice. And our dad didn't want us to keep secrets in our family, so he didn't tell us not to tell our mom, and so, of course, we went home and we were so young and we didn't understand the gravity of it all, thank God. My mom was just so upset. So upset. But, you know, unfortunately sometimes as a young person, you can get used to that. And no one should have to get used to that," she said. "And hopefully we're able to step by step do things to change that in the community. And the times that we cannot change it, what we want to do is to remember the person [who] has passed. And that's what's so beautiful about the Yetunde Price Resource Center. We couldn't have prepared for this, but now there is something beautiful coming out of it."
Including Serena and Venus Williams, other panelists included:
Dr. Sharoni Little – COO, Yetunde Price Resource Center
Anton House – Ex-gang member who is now an SETLC volunteer and Howard University Ph.D. candidate
Tamika Mallory – founder of Mallory Consulting, and national co-chair for the Women's March
Malik Yoba – actor, singer and three-time NAACP Image Award winner
Several stories opened the dialogue that inevitably spilled into the audience. Malik Yoba jumped out of his seat to speak with a single mother in mid-discussion about volunteering and doing her part in the community. Yoba went on to talk about being involved in rebuilding Baltimore by purchasing land and investing "to help our people in that neighborhood. … We need to create jobs," he passionately expressed.
Every panelist had a personal, heart-wrenching experience of how gun violence changed their lives. Yoba conveyed his feelings about how his father beat and abused him as a young boy which inevitably led him to street life and being shot at 15 years old. Tamika Mallory spoke about her son's father being beaten, shot, killed and left in a ditch for two weeks, and Anton House shared his experience from the other side as a former gang member, changing for the better by going to college.
Former FLOTUS Michelle Obama, sent a congratulatory video to the Williams sisters, expressing excitement about their venture, however, charging everyone in the room with the responsibility of contributing to their communities to make them safer places for the youth to grow and flourish.
Venus Williams has been a fashion designer of her own activewear brand, EleVen by Venus since 2007. She put on a fashion show, showcasing a group of young black girls as her models. Williams received an associate's degree in fashion design in 2007 and a bachelor's degree in business administration in 2015.
Doing what they do best, the tennis champion duo graced the tennis courts to play a few games with some of the youth from the center. Serena's husband, Reddit co-founder and tech entrepreneur, Alexis Ohanian was spotted snapping pictures of his wife from the sidelines. Alexis Ohanian and Serena Williams had a daughter, Alexis Olympia Ohanian Jr., this past September and wed one week before Thanksgiving.
Special guests included the Williams family, Rev. Marcia L. Dyson, Lalanya Abner, chef Daniel Thomas, Wanda Durant, A. Scott Bolden and Melanie Campbell.