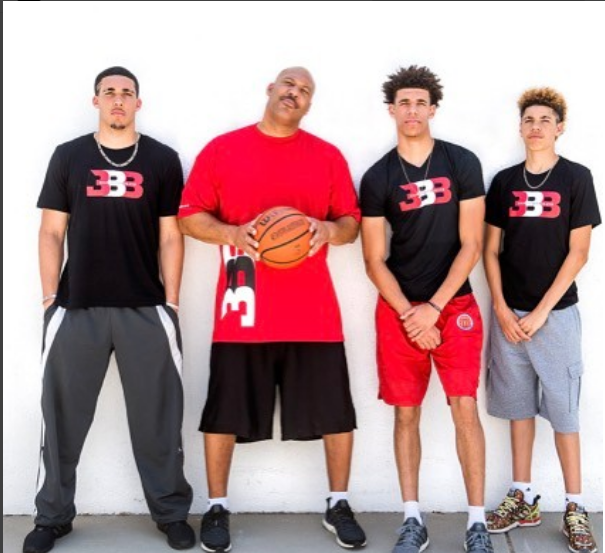 LaVar Ball, the boisterous and bombastic patriarch of three basketball-playing sons, has become a major marketing marvel. He managed to make the national news three separate times in one day yesterday.
The man many people call "Big-mouth Ball" started the day off by pulling his sticky-fingered son, LiAngelo, out of the University of California-Los Angeles. The founder of the Big Baller Brand is withdrawing his son from UCLA out of frustration that LiAngelo and two teammates remain suspended indefinitely as punishment for their arrest in China last month for shoplifting, as first reported by TMZ. 
"I'm going to make him way better for the draft than UCLA ever could have," LaVar Ball told ESPN in his latest obnoxious boast.
Equally bizarre and controversial is the fact that the Los Angeles Lakers are going to enforce a policy that's called the "LaVar Ball Rule" that bars reporters from a section of Staples Center that's near family and associates of players after games, especially since Ball has been very critical of the team's coaches and players in recent weeks, according to a report from ESPN.
"It's not a new policy; it's an existing policy," a team spokesperson told ESPN's Chris Haynes. "There has been more media presence in that area than before. That section is strictly for family and guests of players. It's a privacy concern."
The most light-hearted news Ball made on the day was that he actually followed through and sent the president of the United States, Donald Trump, a pair of Big Baller Brand shoes, the Los Angeles Times reports.  
"I sent Trump his shoes," Ball said outside the Staples Center, where his son scored 15 points and had 10 assists in the Lakers' 127-123 overtime loss to the Warriors. "He should have them — unless they took 'em!"
Last week,  Ball promised he was going to give Trump the $495 Big Baller Brand ZO2 Prime Remix shoes "so he can calm down a little bit," referring to Trump's Twitter tirade when Ball refused to thank him adequately enough for getting his son released from China. 
As far as his son's indefinite suspension at UCLA, Ball continues to think the international incident should have been dismissed as an adolescent mistake and his son is being unfairly penalized for a momentary lapse in judgment.
"I'm not sitting back and waiting," Ball said. "He wasn't punished this bad in China … We get back over here and the consequences were even stiffer than China. So basically they're in jail here."
UCLA said in a statement on Monday afternoon: "We learned today of LiAngelo Ball's intention to withdraw from UCLA. We respect the decision he and his family have made, and we wish him all the best in the future."
Ball and teammates Cody Riley and Jalen Hill are suspended under UCLA's Student Conduct Code. Neither of the three has played in a game this season, and it appears LiAngelo Ball will leave UCLA after never actually playing a single minute for the school. While he did not record any points or rebounds, Ball did register one significant steal.
Ball continues to double down on the fact that the theft "ain't that big a deal." However, LiAngelo Ball, Riley and Hill apologized for their actions,  and, most important to the president, thanked Trump for his diplomatic work.
Since UCLA will not indicate when LiAngelo Ball will return to action, his father is being proactive and taking him out. 
"We are exploring other options with Gelo," Ball said, unsure of where LiAngelo will go next. "He's out of there."
LiAngelo is now the second son LaVar has pulled out of school this year. Ball's youngest son, LaMelo, who is slated to follow his two older brothers to UCLA, was yanked out of Chino Hills High School so LaVar Ball can homeschool him.
LaMelo Ball is still in line to go to UCLA, Ball told ESPN. That may be a problem. LaMelo Ball may not even be eligible to play in college because he already has his own Big Baller Brand shoe.