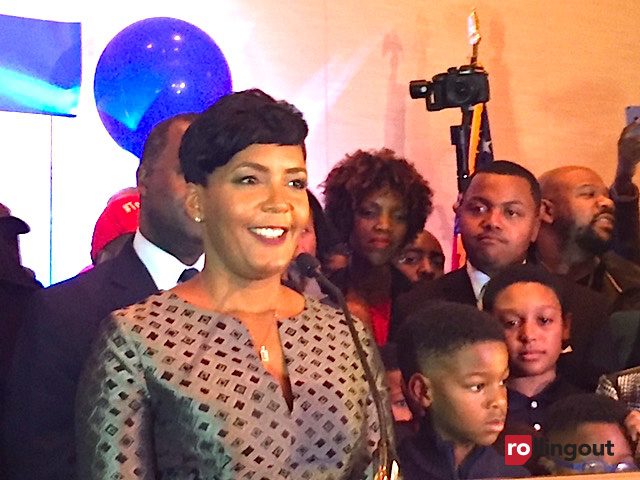 Atlanta has always been a place where Black Americans can dream. From the days of Dr. Martin Luther King Jr. and the Civil Rights Movement, to Maynard Jackson's political strength, to the creative voices of OutKast and the city's prominent hip-hop movement, Atlanta has always been a place where Blacks can find the space to be great. Atlanta is now a place where Black girl magic is a reality.
Keisha Lance Bottoms is the 60th mayor of Atlanta and only the second Black woman to lead the city in this capacity. On Dec. 5, Bottoms defeated Mary Norwood in a close runoff election that had the intensity and drama of a championship game.
But during the weeks leading up to the runoff election between Bottoms and Norwood, intensity and drama became commonplace.
Bottoms was marked as an underdog early on. Even with the backing of Mayor Kasim Reed and being a Black candidate in a majority Black city, Bottoms appeared to have been forced into playing the role of David to Norwood's Goliath. Goliath in the sense that Norwood obtained major endorsements from city leaders such as Atlanta's first Black female mayor Shirley Franklin, Ceasar Mitchell, Lisa Borders, Peter Aman, John Eaves and Cathy Woolard. They were all Democrats who jumped party lines to endorse Norwood who is an Independent and has voted for Republicans and Democrats. The city's changing demographics also created a challenge for Bottoms. With most of the Eastside of Atlanta experiencing gentrification, areas that were once majority Black are now majority White.
Bottoms countered by getting endorsements from big-name Democrats who have a national presence such Kamala Harris and Cory Booker. Atlanta celebrities such as Big Boi, Killer Mike, T.I., Kandi Burruss, Ludacris, and 2 Chainz posted social media videos endorsing Bottoms. And celebrities from other cities such as Jamie Foxx, Common and Gabrielle Union also supported Bottoms on social media.
Bottoms also used Norwood's words against her. During their last debate, Bottoms spoke about racial language used by Norwood in a meeting with the Young Republicans of Buckhead in June. In a recording obtained and first published by rolling out, Norwood used racist codes by referring to Black voters as "thugs" and "felons." Norwood countered by speaking about Bottom's taxes and missing payments on her water bill.
But Bottoms appeared to be destined for the position. Born and raised in Atlanta, she represents the essence of Atlanta. Nationally, Atlanta is viewed as a city where the young, Black and prosperous can achieve. It's a place where Blackness is embraced culturally and from a business standpoint.
Bottoms just isn't Black Atlanta, she also represents the strong womanhood of Black Atlanta. She walks in the footsteps of powerful Black women such as Coretta Scott King, Evelyn Lowery, Jean Childs Young and Doris Derby.
After it was announced that she would be the 60th mayor of Atlanta, Bottoms spoke to a capacity crowd in a ballroom at the Hyatt Regency downtown.
"This is about Atlanta," Bottoms said. "This is about what this city will be for our children. At the beginning of this campaign, we talked about how this is a city where impossible dreams can take form. And I stand here today knowing that there are possibilities that are still taking form every day."
Bottoms continued to speak about her family and being raised in the majority-Black area, Southwest,Atlanta. She also gave encouragement to other young girls who witnessed her extraordinary feat.
Bottoms said, "I want every young Black girl to know that Black girl magic is real."
Bottoms held up the legacy of a city that stands as a unique locale for Black culture and corporate businesss. For the next four years, Bottoms and the voters made it possible for Atlanta to remain Atlanta.