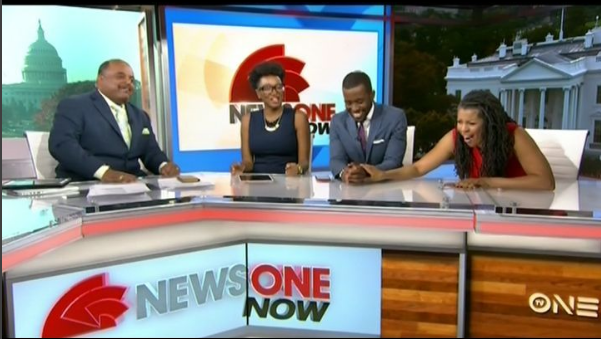 Journalist and TV personality Roland Martin is, unfortunately, on the receiving end of another career shock. Just a few years after being surprisingly removed as a CNN contributor due to a misunderstood, albeit controversial, comment he made on social media, Martin is being ambushed once again. This time TV One is shutting down his morning show, "NewsOne Now," just before Christmas.
Sources close to the show indicated there were "significant financial problems" at the network, leading to the decision to cancel Martin's show. However, this came as a shock to many staffers as well as Martin himself, especially since Martin's show had just been extended to two-hours in September. 
The final airing of the show will be Dec. 21.
The publication stated that staffers were informed on Wednesday of the decision during a meeting, the New York Post's "Page Six" reports.
"There were lots of tears … The staff was completely caught off guard," the source said.
Martin, who skyrocketed to national fame from his work with the Chicago Defender and was soon commentating on politics on CNN before hosting his own news show on TV One, confirmed the sad news about "NewsOne Now" on social media: 
"Fam, the sad news is true. The staff of @tvonetv #NewsOneNow was informed this afternoon that after four years of doing groundbreaking and award-winning work, the show will cease production at the end of the year. Our last live show will be Dec. 21. The emails, text messages, phone calls, Facebook and Twitter posts have been amazing. Your love for our work on @tvonetv #NewsOneNow is warming my heart and that of my staff. To read these amazing comments about how much the show meant to you is unbelievable. Thank you! Thank you! Thank you! #BringTheFunk"
TV One management tried to rationalize the need to make this move to a stunned viewership. 
"After four years of award-winning programming and distinguished service to our viewers as the only Black daily newscast on television, the network has made the difficult decision to suspend the production of 'NewsOne Now' as a daily morning news show. The last live show is scheduled [Dec. 21]," TV One's interim general manager Michelle Rice wrote in a memo. 
"While we will continue our long-standing partnership with Roland Martin to ensure his important voice can be heard across all Urban One platforms examining issues of importance to the black community, we regret this decision adversely affects several of our valued colleagues whose positions will be eliminated with the suspension of the show," the memo added. 
Martin was suspended from CNN in 2012 after writing controversial tweets that were interpreted as homophobic by the Gay & Lesbian Alliance Against Defamation. After being reinstated in 2013, new leadership at CNN told Martin and others of their desire to move in a different direction with their own hand-picked people.