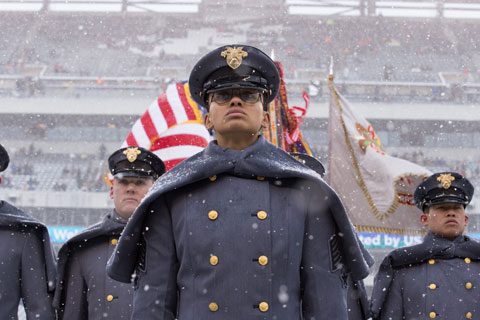 The year of 2017 continues to shine with Black Girl Magic as Cadet Captain Simone Askew, 20, led the "March On" at this year's Army-Navy Game. Askew is the first Black woman in the history of West Point to hold the designation of "first captain" and is considered an exemplary cadet among the student body.
Askew's journey to the United Stated Military Academy (USMA) at West Point started from an early age. According to an interview with the Washington Post, she became fascinated with the military after her single mom would take her on an hour long drive to watch Navy Midshipmen play at the US Naval Academy in Annapolis, Maryland. In addition, she would attend summer camps at the academy as well as take trips to the USMA.
She started that she became fascinated with military service academies from her youth and the high school homecoming queen found herself at the USMA. Although she was exposed to the Navy at an early age she decided on the Army because of its concentration on the humanities. In addition to holding the highest student rank at the USMA, Askew was also named a Rhodes Scholar. When she finishes at West Point, she will be off to Oxford, England to pursue two one-year master's programs as one of 32 Rhodes scholars selected nationwide. Upon completion of her education at Oxford, Askew will report to a basic officer leadership course for Army engineers.
On Saturday, Askew led the 4,400-member Corps of Cadets onto Lincoln Financial Field in Philadelphia to see Army beat Navy 14-13 to win the Commander-in-Chief's Trophy for the first time since 1996.