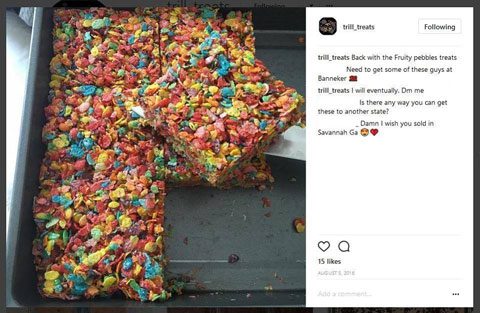 Georgia teen Addea Simmons, 19, by all accounts, seems like a bright, young Black male with a strong entrepreneurial spirit. While he was in high school, he started baking and selling treats such as brownies to fellow students. When he graduated, he continued his baking business and expanded it, even getting others to sell his baked goods. Now Simmons is in jail because what he was baking was marijuana edibles and he targeted Atlanta area high school kids.
Simmons' story was highlighted by FOX 5 I-Team, which conducted an undercover sting of Simmons and his baked goods. During one encounter, Simmons states to an undercover buyer, "Yeah, I started in high school doing this s—, so when I graduated people knew about it and I kept people selling for me."
The undercover buyer purchased 12 wrapped brownies for $100 and an additional $5 delivery fee from the teen. Lab results on the brownies showed a THC level, the active component in marijuana, that was allegedly three times the accepted dosage of similar products in a pot legal state such as Colorado. However, there is no accepted dosage when it comes to recreational use of marijuana. Depending on the strength of a marijuana edible, many people only eat a small portion at a time. Cannabis oil containing low levels of THC is legal in Georgia to those who have a state-issued card. Marijuana in any other form is illegal in Georgia.
Shockingly, Simmons advertised his highly illegal business online using Instagram and was even taking orders. The Instagram handle Trill Treats had 4700 followers but is now shut down. The page allowed users to select from a list of Atlanta area high schools and the edible product type desired. After the news team made their findings known to local law enforcement in Douglas County, Georgia, police soon began their own investigation. Simmons was arrested by police after an undercover buy by the Douglassville Police Department and was charged with five felonies, including two counts of selling a Schedule 1 controlled substance. Georgia treats possession and sale of marijuana laced edibles harshly and Simmons can face a fine and 5 to 30 years for each charge.
The drug dealing baker lived with his parents in a beautiful suburban Atlanta area home. His parents refused to comment on whether they knew about their son's operation. When police arrested Simmons, they recovered assorted baking goods that included boxes of cake and brownie mix and 12 crock-pots.