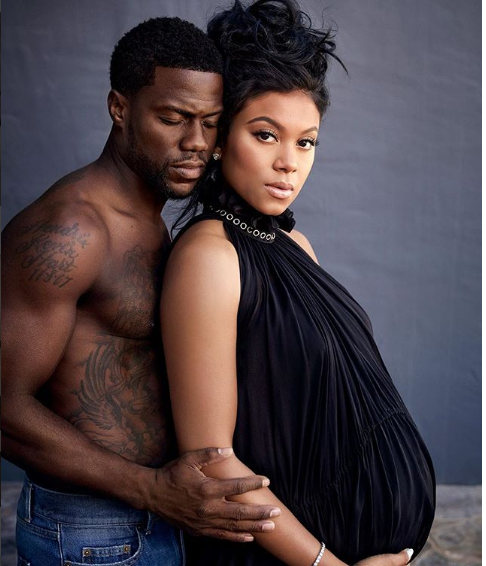 From multiple media and blog reports, alleged infidelity was one of the main reasons Kevin Hart's first marriage to Torrei Hart disintegrated while he was simultaneously riding on an upward trajectory towards Hollywood superstardom. 
So it took Hart fans by surprise that, not long after he married Eniko, he was compromised by a beautiful but anonymous South Beach woman. The mysterious lady plotted to have the illicit encounter recorded so that she could blackmail the Ride Along actor to the tune of $10M or more.
The U.S. Department of Justice is currently investigating this extortion case.  
The star of Think Like a Man admitted on the "The Breakfast Club" morning radio show that ever since his cheating scandal, he has been living in a "cold house." Considering he had an affair while his wife Eniko was very pregnant, the fact that she was seething with resentment and a sense of betrayal was expected.
Charlamagne Tha God, one of the hosts of "The Breakfast Club," came right out and asked Hart, 38, about his scandal earlier in the year, and the comedian did not hesitate to be real and upfront about it. 
"That's Kevin Hart in his dumbest moment," the comedian said on Thursday. "That's not the finest hour of my life. With that being said, you make your bed you lay in it. You can't even say, 'What were you thinking?' Because you weren't thinking." Hart said he will use the transgression in his stand-up comedy act. He added that his wife is okay with it because he will not disrespect her – the way he did in cheating on her. 
"It is beyond irresponsible. There is no way around it. The best way to do it is to address it right on. That is Kevin Hart in his dumbest moment. That is not the finest hour of my life. That was my f**k-up…I rightfully stand in front of my f**k-up, hand in the air. I am guilty. Regardless of how it happened, I am guilty. I was wrong," Hart confessed. 
As fans may remember, back in September, Hart claimed that someone was trying to blackmail him and extort money from him after his "bad judgment."
Around this time, a video of him flirting with an unknown woman as well as one pic of a couple in bed surfaced.
Eniko, 33, gave birth to their son, Kenzo Kash Hart, last month, and Hart revealed that despite the fact that she hasn't made any steps towards filing for a divorce, he is still fighting to fix their marriage.
"Me being wrong, I'm going to face the music," he continued. "I'm gonna go home, I'm gonna address it, I'm gonna make my wife fully aware of what's going on in the situation that I have now put us in."
"Your woman is not a f—king rug," he explained. "You're not going to walk over your woman's back. Any woman is going to – you're going to get some s—t. It's a cold house, it's a very cold house for a minute and rightfully so."
In the end, Hart hopes things can once again resume some semblance of normalcy. 
"I am hoping she has the heart to where she can forgive me and understand that this isn't going to be a reoccurring thing, and allow me to recover from my massive mistake. It is a very cold house for a minute … There are good days and bad days. You take your humble pie," Hart explained.