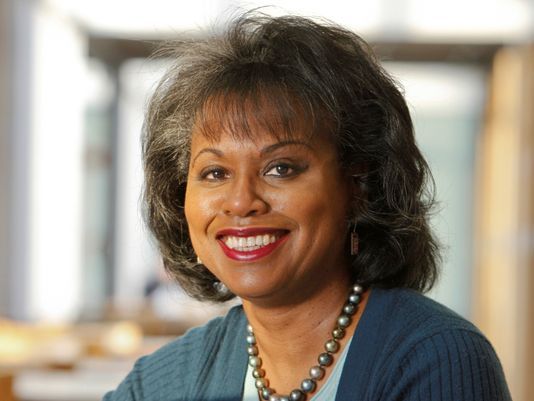 Who better to rifle through the sordid, putrid terrain of chronic sexual harassment in Hollywood than the woman who was at the epicenter of arguably the most famous harassment case of all time?
The infamous Clarence Thomas Senate confirmation hearings on Capitol Hill in 1991, dominated by Anita Hill's sexual harassment allegations against the future US Supreme Court judge, captivated a nation like few other congressional forums in modern US history (and included the famous phrase "high-tech lynching") and the entire spectacle seemed to had been pulled right out of a Hollywood blockbuster script.
Hill survived that nationally-televised ordeal and humiliation from more than a quarter-century ago. Today, Hill, the highly-accomplished, award-winning academician and author, is being asked to chair the new Commission on Sexual Harassment and Advancing Equality in the Workplace.
The commission announced that Hill accepted the post on Friday after a meeting with Lucasfilm President Kathleen Kennedy, Nike Foundation Founder and Co-chair Maria Eitel, Nina Shaw, and venture capitalist Freada Kapor Klein.
"The Commission will not seek just one solution, but a comprehensive strategy to address the complex and initer-related causes of the problems of parity and power," Kennedy said.
"The fact that so many industry leaders — across film, television, music digital, unions, agencies, ATA, AMPAS, television academy and guilds — came together, in one room, to explore solutions speaks to a new era."
In 1991, Hill came forward to accuse Clarence Thomas of sexual harassment during his Senate confirmation process for U.S. Supreme Court Justice.
Since then, she's been teaching law and policy at Brandeis University as well as being part of legal and cultural developments around harassment, and both racial and gender equality.

Hill has also chaired the Human Rights Committee of the International Bar Association and is a member of the Board of Directors of the National Women's Law Center, as well as the Boston Lawyers Committee for Civil Rights.
"I'm proud to be leading this newly-formed Commission on a long overdue journey to adopt best practices and to create institutional change that fosters a culture of respect and human dignity throughout the industry," Hill said.
"We will be focusing on issues ranging from power disparity, equity and fairness, safety, sexual harassment guidelines, education and training, reporting and enforcement, ongoing research, and data collection," she went on. "It is time to end the culture of silence. I've been at this work for 26 years. This moment presents us with an unprecedented opportunity to make real change."
Hill's meeting with the commission happened 10 weeks after Hollywood was rocked by the allegations of sexual assault and rape against Harvey Weinstein.
Women have also come forward to make allegations against Matt Lauer, Louis C.K., Russell Simmons, Brett Ratner, Kevin Spacey, Garrison Keilor and Al Franken, among others.
The Commission on Sexual Harassment and Advancing Equality in the Workplace will meet again early next year to define its mission, priorities and scope.