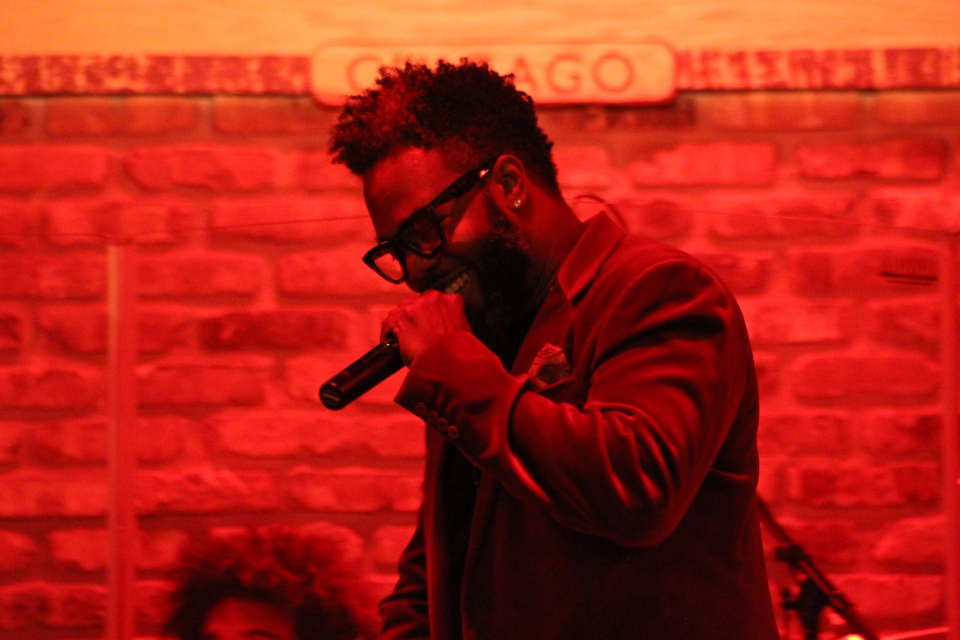 Dwele is a musician who has the ability to cross cultures and genres via his breadth of skill. This Detroit native continues to deliver a soulful and highly relatable sound that is soothing to the ear. He has worked with everyone including the late J Dilla, Slum Village, and Kanye West. We spoke to him recently as he made his way to Chicago to perform at the City Winery. We talked about his honesty, the love found in his music and where that Detroit soul comes from.
If you had to describe your style, how would that look?
If I had to describe it I would say I was a blend of three elements. I was raised on hip-hop, soul music, and jazz music. So I would say that I'm a bit of all of that. I get my delivery from hip-hop, I get my musical feel from jazz. That laid back behind the beat delivery kind of originated from jazz. The R&B and soul are just in me.
There is such a depth of soul that exists in the music that comes from Detroit. Can you explain where you think that comes from?
I always say Detroit is like a melting pot when it comes to music. It's a very tight-knit community of musicians. Even though we don't promote each other as much as we used to, as much as we need to it's still very close, so you can be involved with music without knowing what your peer is doing. It's easy to get influenced by what's going on in the city. In Detroit, there are so many different musical elements. You have your soul, you have hip-hop, you have your Slum Village, Eminem, rock music like White Stripe. You have Techno that kind of originated from Detroit. There are so many different elements to pull from, we all just kind of feed each other. It all bubbles up. It also helps that Detroit was the home of Motown and our mothers, aunts, and uncles came up wanting to be musicians because they saw their peers doing it. It made them want to pick up an instrument or the mic and I think that was passed down to us. It's in the air, I don't think it's going anywhere anytime soon.
Your songwriting is so relatable. Is this something you do on purpose?
I try to speak from a perspective of things I've been through and things my people have been through. If you always talk about relationships you can always relate to people in one way or another. I try not to speak from the house on a hill perspective. I live that. I'm just really talking about my life.
There is a hyper-sexuality that exists in the music these days, but you manage to stay the course and keep love at the forefront. Why is this important to you?
Even though music has gone that route I feel like there is still a mass of people who want to hear love. There are people who need love songs to get the job done. I try to fill that void. I like to think of my music as the audio Hallmark card. You can turn the cd on and let it play and let it do what it needs to do.
I can't talk about Detroit music and not mention Dilla. I know you guys were close, can you share what you learned from each other.
I don't know what Dilla learned from me but I know what I learned from him. Dilla was the king of sampling and I wasn't really a sampler I just played everything. When it came time for me to sample and I needed that different feel, I could always hit him up and he would always hit me with the answers and he would always give me a little something extra. He taught me how to layer drums and so many other things. Dilla was definitely instrumental in helping me craft my feel. I'm working on some new stuff and I'm heavy into sampling but I'm creating my own samples. It's an ode to all the stuff that Dilla taught me.
Artists like Kanye West and Dre have a thinktank around them when they create. Is this how you create your music?
I'd rather it just be me in the studio. I like to get the concept and pretty much everything out of me untouched. After I sit with it, I make the changes that I want to make and then I bring the thinktank in. Then they can share their opinions on what they think works or not. Sometimes we move on it from there.
You are so honest in your music. Talk about how that informs your writing style.
I think that started from early on. I was always kind of quiet and I think I found my voice through telling a story through song. That's how I got things off my chest. I've found myself in arguments with women and in that moment I cant get my point across correctly. I might leave from that kind of frustrated, so when I get to the studio it all comes out. That's kind of how I operate. I'm a little more vocal than I was back in the day. I've learned to write in that fashion.
What do we have to expect in 2018?
I'm in the process of delivering a new album. I'm working on it right now, just having fun with it. I'm taking my time with it, making sure its right. Right now the name of the project is Same Book New Chapter.
What words of encouragement do you have for those following their dreams?
Stay diligent with what you do. Do it for the love; don't just do it for the money. If you do it for the love, you will be happy. If the money comes then that's cool. I feel like if things didn't line up for me and I was working a 9-to-5, I would still be doing music. Music is what makes me happy. Find out what sets you apart from everybody else and accentuate that and make people notice it.