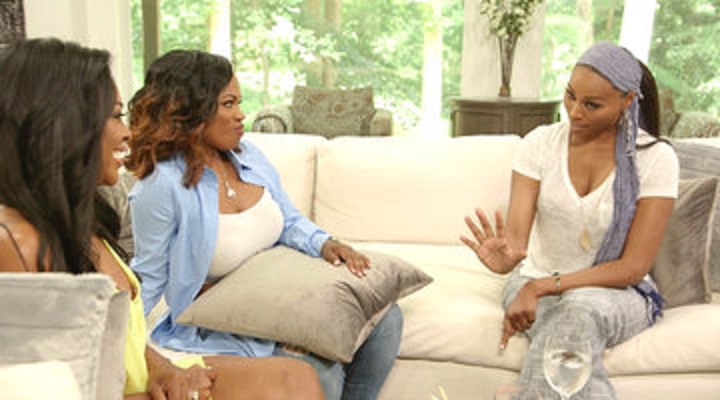 Season 10 of "The Real Housewives of Atlanta" has provided closure for some, reopened unhealed wounds, and also revisited a few situations from the past for the ladies. Check out the top highlights from episode seven below.
Porsha embarks on her first blind date with Mr. Clean
Porsha Williams has had her fair share interesting mates, so she decides to call in the professionals and hire matchmakers to help her find love. She's dated nice guys, but this time she wants someone who is supportive, successful but most of all someone who wants a family. Porsha makes it very clear that she's open to all races and nationalities so her matchmakers decide to set her up on a blind date with Patrick, a hot, White chocolate Mr. Clean. At first glance at his bald head, she almost walks out of the restaurant but instead, she chooses to get out of her comfort zone and stay on the date, which didn't last long. One sake bomb shot in and Ms. Williams was Wanda from "In Living Color,"…"Ret ta go!"
Source: YouTube/BravoTV
Business or pleasure? Cynthia and Peter reunite
Cynthia Bailey has yet to meet her bestie, Kenya Moore's new husband, Mark Daly. But, those receipts can wait for now because Cynthia has a few things to settle with her own husband, well ex-husband, that is. Let's not forget that Cynthia is a 25 percent owner in Bar ONE and she and Peter Thomas must handle unfinished business as the restaurant is scheduled to reopen in a few months.
Sports ONE in Charlotte is very successful and plans to duplicate that success in Atlanta are underway; meanwhile, although there's a new dynamic between these ex-lovers, neither Peter nor Cynthia can fight the flirty chemistry and curiosity about each other's romantic lives.
Kandi plays FBI agent toward Cynthia's new beau, Will
Look out Atlanta PD, here comes Detective Burruss-Tucker at your service. At least that's how it seems when Cynthia invites Kandi and Todd on a double dinner date, boat ride. Kandi did a little digging and reveals through her investigation that she found out Will has been on many dating shows, including "The Steve Harvey Show," and a new dating show pilot.
No speculation here, Kandi comes with real receipts and Will confirms her allegations. However, he insists that he is not an opportunist. Kandi and Todd suggest that Will and Cynthia take their time to truly get to know each other, after all, Cynthia is a very popular woman and can't go falling in love with the first man she dates.
Source: YouTube/BravoTV
An unexpected phone call reveals that Sheree is in love
Domestic violence survivor Sheree Whitfield mends her heart from her first marriage and opens it up to someone new. After photos of her with her incarcerated beau surface on the internet, speculations and rumors imply that she is officially married but Sheree confirms that none of the rumors are true. However, after a phone call, Sheree returns to her therapy meeting wearing an unusual glow.
She reveals to her life coach, Jack Daniels, that she is in love and she strongly believes that her incarcerated bae, Tyrone, is her soul mate. Although she admits to taking a big chance on love, she also proclaims that she is fearless and willing to take the risk because the way he gives her butterflies assures her that he is worth it all.
Do you feel Sheree is truly in love or is this just a fantasy? Comment below.