A White supremacist trolled California Congresswoman Maxine Waters at a vulnerable moment on a plane and decided to take a creepy selfie while she slept.
Chuck C. Johnson, an avowed White supremacist who denies the Holocaust ever happened, recently made the news by pushing a narrative of false sexual harassment allegations against Chuck Schumer. He spotted "Auntie" Maxine on the plane and decided to be a creep. 
Instead of staying far away from something that he hated — or having the intestinal fortitude to ask her for a photo op when she awakened — the dastardly rodent on two feet waited until Waters, D-Los Angeles, was asleep. Then he clandestinely slipped into the open chair next to her seat in first class and posed with her.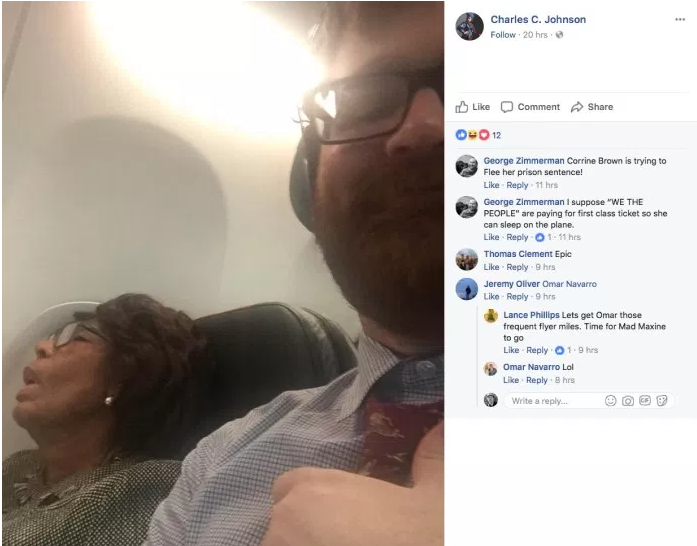 The picture, which was taken on a flight from Washington, D.C., to California, is creepy enough. And the comments on it are about what you'd expect from the followers of a White supremacist.
He captioned the photo, "I am sitting next to a female congressman on a flight from DCA to LAX who just said that she hopes an accused sexual harassing congressman Ruben J. Kihuen sticks it out. She spoke with a Hispanic man who is seated to my left one row up. He said that Kihuen was going to go meet Harry Reid who still 'runs the show.' I'll post a selfie with Congresswoman Maxine Waters when I land.
So much for #Metoo."
George Zimmerman, the man whom most believed hunted down and murdered Trayvon Martin in cold-blooded, execution-style fashion in Sanford, Florida, in 2012, even commented on the image.
"I guess the WE THE PEOPLE are paying for first class ticket so she can sleep on the plane," he commented. He also referred to Waters as another fellow Black congresswoman writing, "Corrine Brown is trying to Flee her prison sentence."
On top of that, Waters' opponent in the midterm election, conservative Republican Omar Navarro, got his own little digs in after someone tagged him and another person wrote, "Let's get Omar these frequent flyer miles. Time for Mad Maxine to go." To which Navarro replied, "LOL" (since deleted).