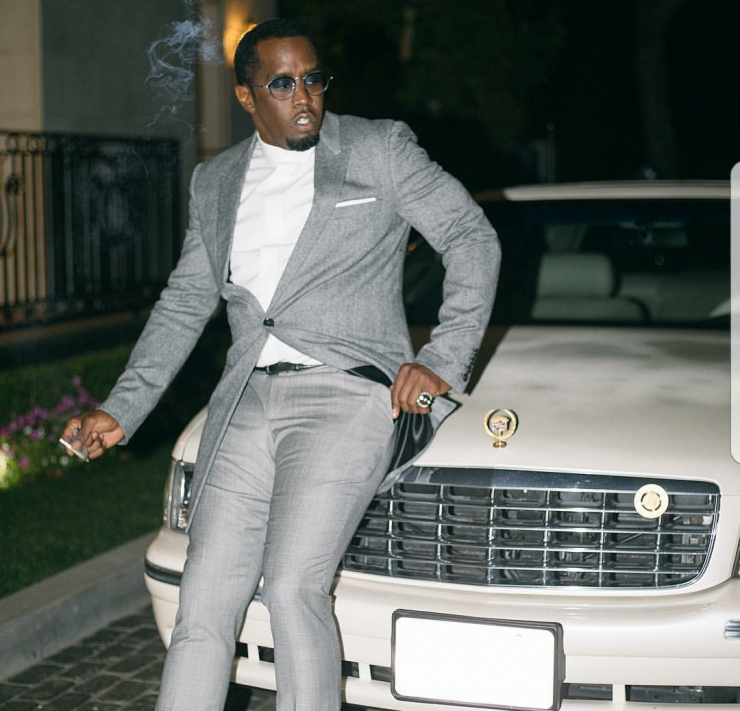 The Carolina Panthers are up for sale and hip-hop mogul, Sean "Diddy" Combs is a potential buyer. Current Carolina Panthers owner Jerry Richardson put the team on the auction block after coming under fire for sexual and racial misconduct allegations. The organization's association with the #MeToo movement that has sports anchors, team owners, TV personalities, actors, business moguls and most recently congressmen stepping down from positions of power, doesn't seem to be a deterrent for Combs.
The Ciroc brand ambassador used Twitter to express his interest in purchasing the team after it becomes available at the end of the season. Should Diddy be successful in landing the Carolina franchise, he would make history as the first African American majority owner of a National Football League team. Of all the African American owners in sports, Michael Jordan is the only majority shareholder of a professional sports team (Charlotte Hornets, National Basketball League). The rest are minority owners (e.g. Magic Johnson — Los Angeles Dodgers, Major League Baseball). What would be the "Bad Boy's" first order of business? Hire Colin Kaepernick.
Michael Jordan becomes 1st black NBA player to become a billionaire
"I would be the best NFL owner that you can imagine. I will immediately address the Colin Kaepernick situation and put him in the running for next year's starting quarterback," Diddy said in an Instagram video. "It's just competition, baby. It's just competition."
The Bad Boy Records founder also said that he would have "the best halftime shows and best selection of music." Guaranteeing multiple Super Bowl wins is one thing, but the level of star power Combs can bring to the NFC (National Football Conference) South Carolina Panthers will be one for the record books. Any halftime collaboration with music buddies like Jay-Z, Dr. Dre, Beyoncé, Christina Aguilera, Jennifer Lopez, Usher, Justin Timberlake, Nas, Rick Ross etc. would be nothing short of epic.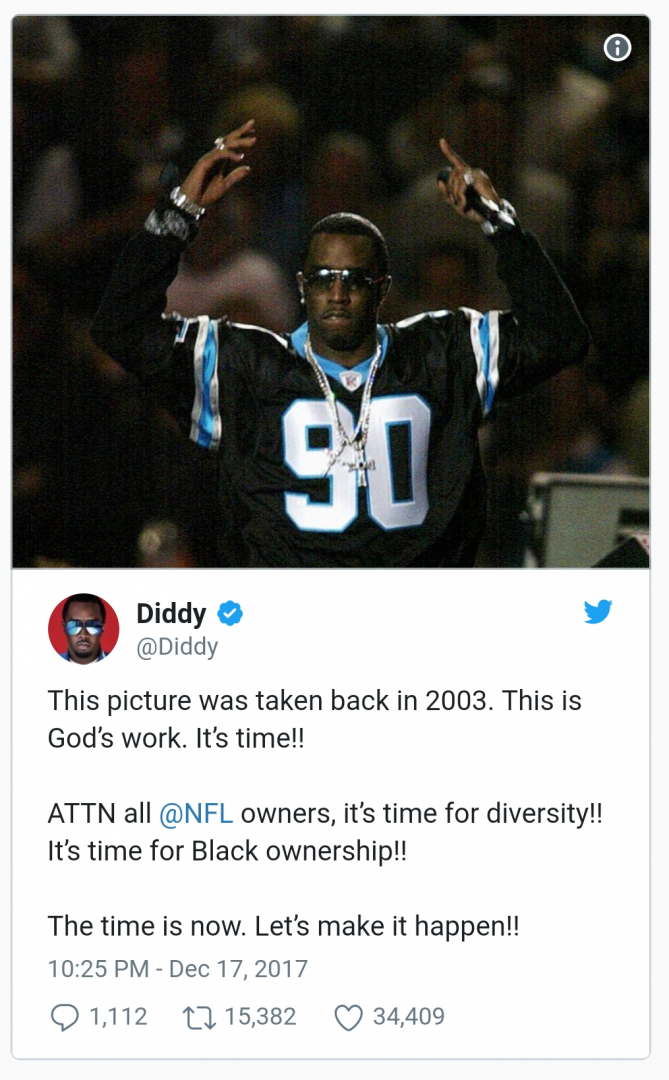 According to Forbes, Combs net worth is a cool $820M. NFL teams reportedly sell for more than they are worth and with the Panthers carrying a hefty $2.3B price tag, the "All About the Benjamins" rapper may need his famous friends to contribute some major coins. Kaepernick expressed his desire to start an ownership group to partner with Combs, and Golden State Warriors star Stephen Curry tweeted "I want in" in response. Curry's $47.3 million net worth would be a logical step in the right direction toward Combs realizing his 14 year-long dream of majority team ownership.
Even if Combs can raise the capital, the sale has to be put to a league vote by all of the team owners. Any inkling of controversy, like the support of Kaepernick, could possibly nix the deal before it even hits the table. Here's to hoping the league's recent vow to back social activism efforts by its players will tip the scales in Combs' favor. As the Unforgivable cologne creator has stated before, in a league where 70 percent of the players are African American, majority ownership by a minority is long overdue. Something has to give. Time to make history.
NFL to donate $100M to Black efforts amid Trump's effort 'to destroy' league