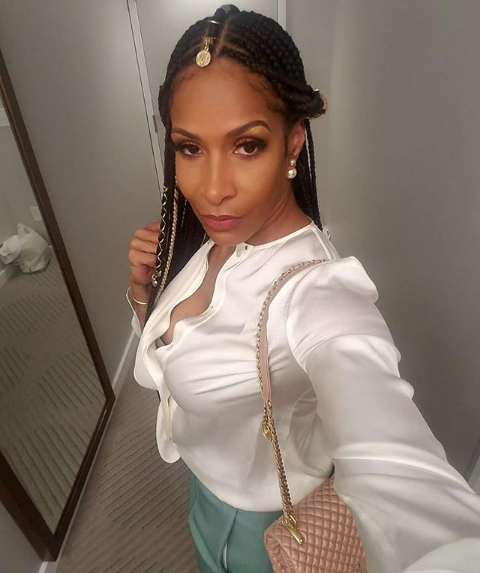 You never know where love will strike and what powerful form it will take. No one knows this better than "Real Housewives of Atlanta" cast member Sheree Whitfield. 
The ex-wife of former NFL lineman Bob Whitfield is definitely ready to get married right now. There's just one problem, however: Whitfield's boyfriend, Tyrone Gilliams, is still serving out the balance of his 10-year prison sentence. But once he gets out, Whitfield will be waiting at the altar for his return.
Whitfield's longtime beau made his debut on the show on Dec. 17 — well, in a way.
The man wasn't physically on the hour-long program because he's incarcerated. But he called Whitfield from confinement. And he is causing as much controversy as one of the cast members on the show. 
Gilliams is serving a decade for stealing almost $5M from unsuspecting victims to support his lavish lifestyle.
Fellow cast members Nene Leakes, Kandi Burruss, and Kenya Moore raised objections and concerns about the 47-year-old falling in love with a professional, manipulative thief.
Although Whitfield claims to not have known about the allegations before reconnecting with Gilliams, she has known the prisoner for many years. He was even mentioned in an argument between her and Nene Leakes several seasons ago during her first stint with Bravo's No. 1 show. 
In Sunday's episode, Whitfield was asked by Porsha Williams if she was married already because of the prison engagement photos that were leaked to the media and her answer was "no."
Whitfield told her co-stars that if Gilliams continues to make her feel the way he does that when he gets out of prison she will marry him.
"You know what, honestly, I've gotten to know this man on a much deeper level. Probably deeper than I've ever known anyone. We have nothing but time to talk and get to know each other," Whitfield told People magazine. "He's a good guy and, you know, he supports me. I can talk to him about anything. He's my best friend."
Turns out that the relationship almost fizzled out when Gilliams cut off all contact with her without prior notification. But Whitfield gave him a second chance once he told her that he did that only to protect her from the case that was going on at the time.

What do you think about Whitfield being enamored with, and wanting to marry, an inmate?