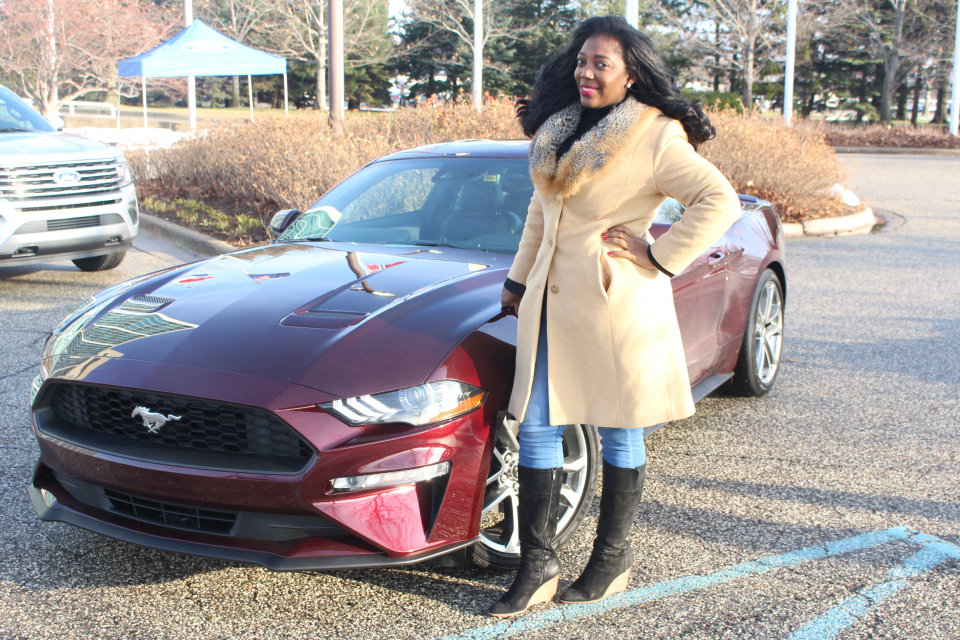 The all-new 2018 Ford Mustang is here and it's packing more power and muscle than ever. It comes equipped with a 5.0-liter V8 Engine with 460 horsepower and 420 lb.-ft of torque or a 2.3-liter EcoBoost I-4 Engine with 350 lb.-ft of torque. It also comes equipped with 10-Speed SelectShift (r)Automatic Transmission in both the EcoBoost and V8 options, as well as a Six-Speed Manual Transmission upgrade, available in both the V8 and EcoBoost, as well. All of that, combined with a more chiseled exterior and spoilers in the rear of the sports pack, makes this one vehicle that is sure to have Mustang enthusiasts reeling in anticipation of owning their next new toy. 
I recently was afforded the opportunity to test drive several different models of the 2018 Mustang GT at a Ride & Drive event at Ford's World Headquarters in Dearborn, Michigan, and let me tell you, I wasn't disappointed one bit. Being more of an SUV type of girl myself, I was pleasantly surprised with how well the 2018 Mustang handled so smoothly on the road. My expectation (having never driven one in the past) was that it was a super heavy, lurch and go type of drive. I couldn't have been more wrong, as I found out it floated down the road with ease. Even though the drive was more rugged than I was used to, I was still able to easily control my drive as I tested out the different features, such as the speed, going zero-to-60 in less than four seconds.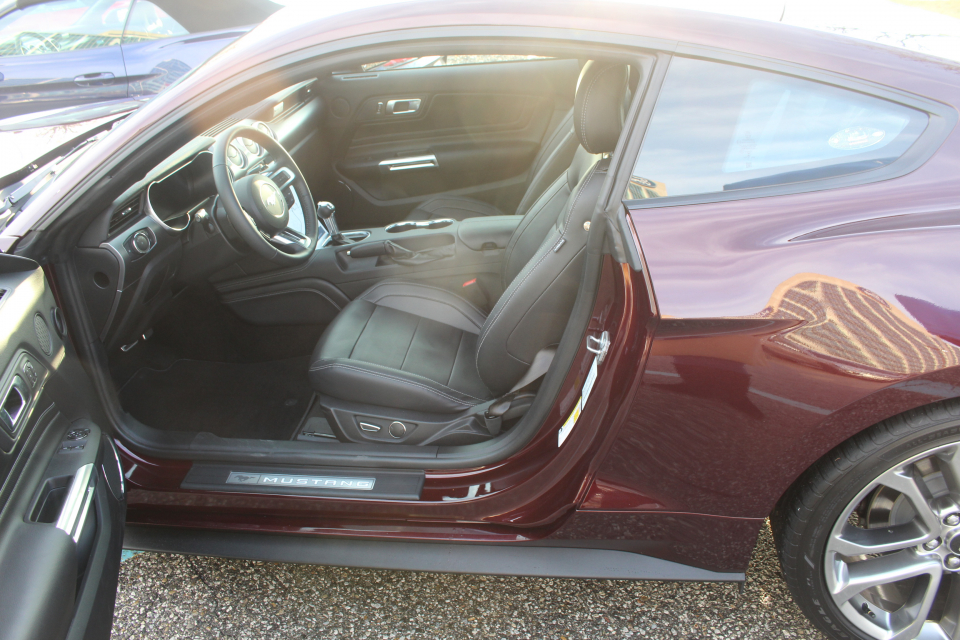 I was also impressed with all the bells and whistles that comes along with the vehicle. Starting with the satin-finish aluminum bezel embellishments on the doors, knobs and levers, to the all digital 12 inch lcd instrument cluster, which is available on the premium plus package, and allows the cluster to transform into three different views via drive mode switches: normal, sport and track view. Another super cool feature that it comes with is the Line Lock feature that's available on all 2018 models, and if you have the 12 inch instrument cluster package, you'll get a spinning wheel and smoke animation when activated. If you don't know what Line Lock does, let me make it simple for you: it's a feature, typically used by drag racers when they're at the starting line of a race, and it allows for the "heating up of the tires", for improved traction of course. But one of its most notable features is that it creates a cloud of smoke as it keeps the pressure on the front brakes and eases the pressure off the rear brakes, an effect seen often-times in the movies. Even though I didn't get to experience this feature first hand, I still think it's pretty cool.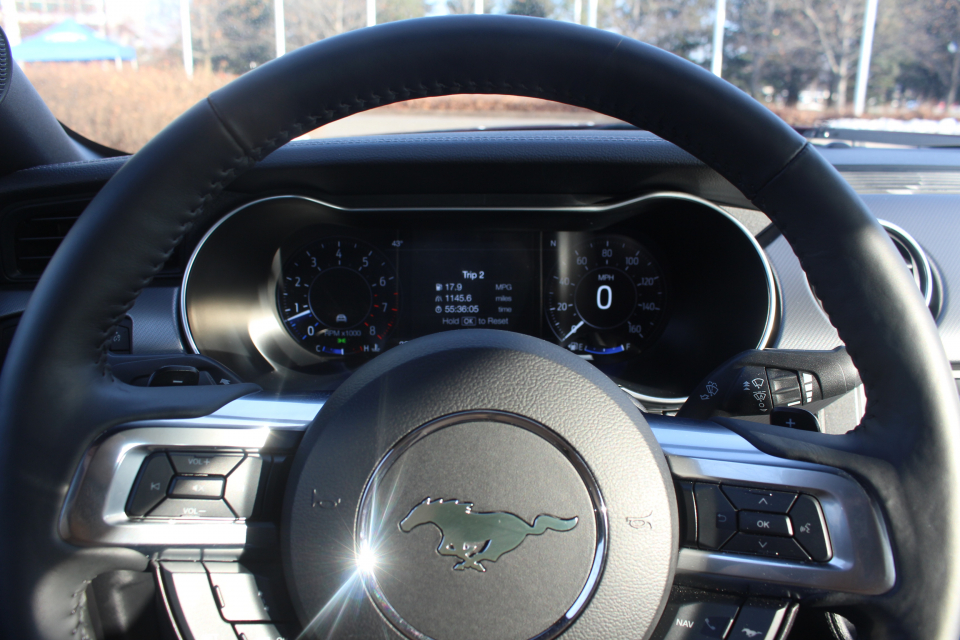 Of course, SYNC Connect is available via embedded modem and it allows you to be able to access certain features from your cell phone, including remotely locking/unlocking your vehicle, remote start and even scheduling a specific time for the vehicle to start, which would be convenient for me in the mornings when I'm on my way in to work. I was easily able to sync my car with a few touches of a button. And how can I forget the Lane Keeping Assist, which allows you to keep from wandering outside of your lanes while driving? That feature took some getting used to as I was driving because it almost felt as if the car was trying to steer me back into my lane when I was switching lanes. I quickly found out that it was easier to maneuver once I started using my blinkers every time I wanted to switch lanes (Not sure how I forgot what blinkers were designed for. I'll chalk it up to my excitement of driving a muscle car for the very first time.).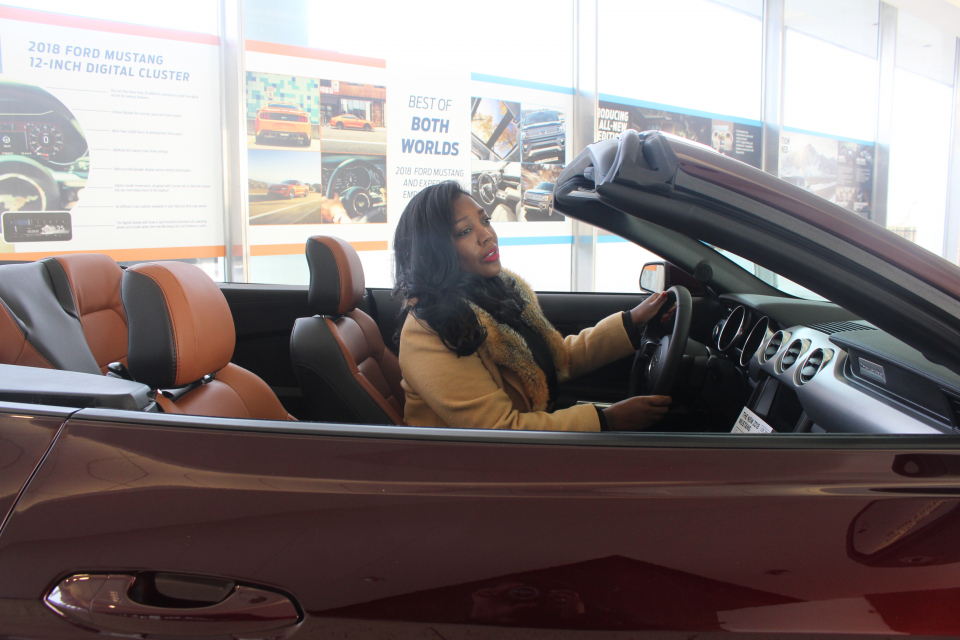 Mark Shaller, Mustang marketing manager, was on hand to give us a first-hand overview of the vehicle and to answer any questions we had. He had this to say about valuing performance with the brand: "Being a performance value has always been something very critical to Mustang. It's an every man's sports car. This is not something that we want to go spend $200K for a car; this is something that everybody should be able to drive, and we want to deliver on that performance promise."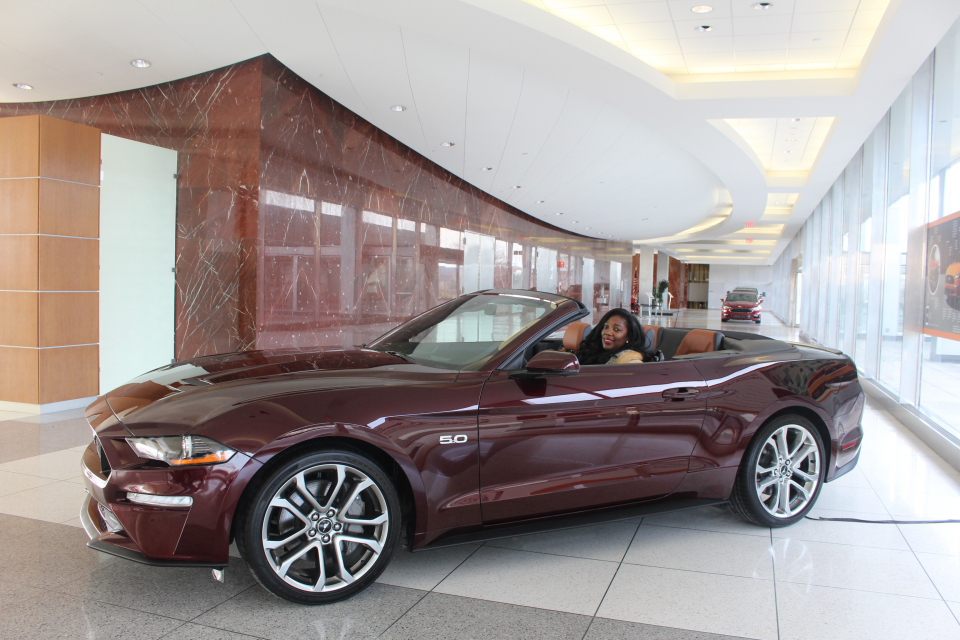 The 2018 Mustang is currently available and you can get one starting at around mid $20K.